Businesses are continuously looking for new methods to engage customers and increase revenue. The concept of mobile vouchers is one such game-changing marketing tool that has emerged. Say goodbye to traditional paper coupons and hello to mobile-exclusive offers that promote rapid savings and increase client traffic.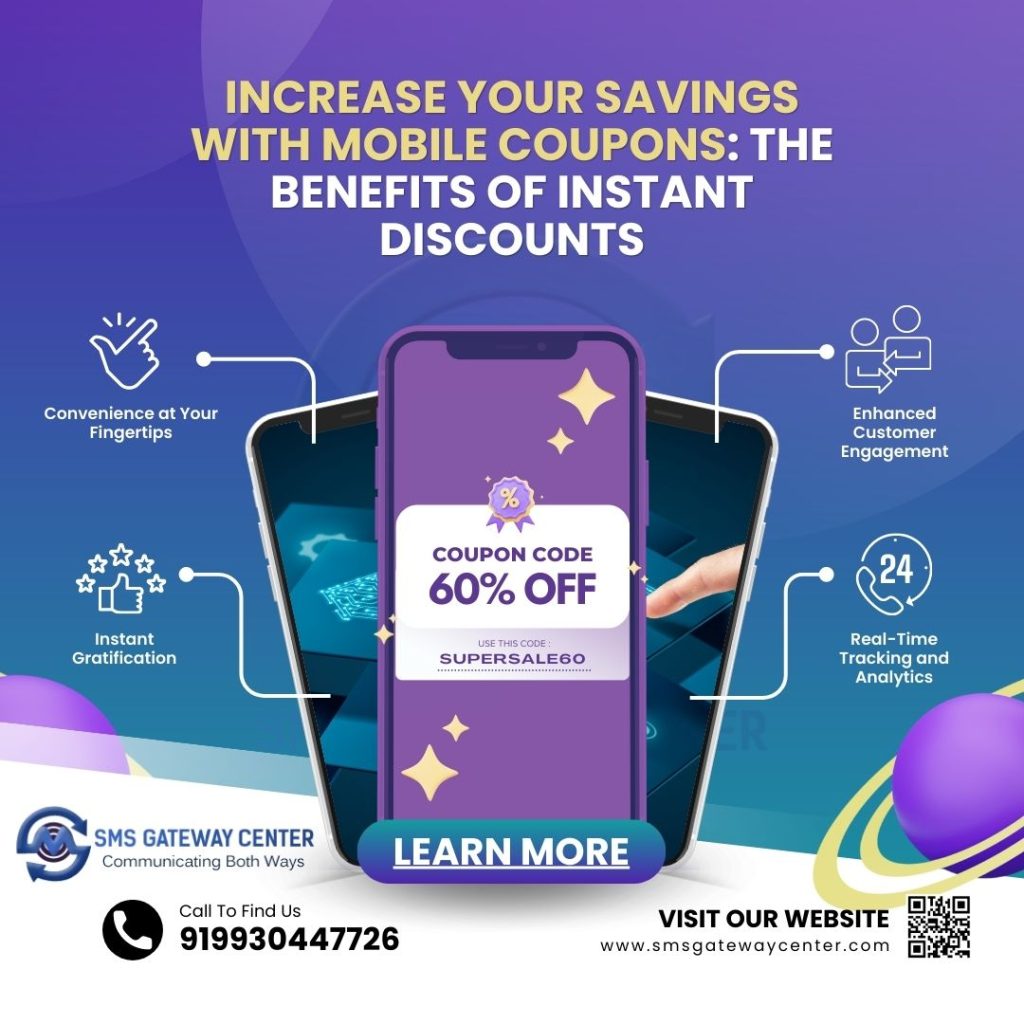 Why Choose Mobile Coupons?
Mobile coupons have transformed the way businesses communicate with their clients. These digital certificates provide a multitude of benefits that not only help customers but also give businesses a significant competitive advantage. Let's take a closer look at why mobile coupons are the future of fast savings:
1. Convenience at Your Fingertips
The days of rummaging through newspapers or cutting out paper coupons are gone. Your clients can get savings immediately on their cellphones using mobile coupons. Because these vouchers are easily accessible, they are more likely to be used, increasing the likelihood of return visits.
2. Instant Gratification
The temptation of quick savings cannot be denied. Customers are more inclined to redeem mobile coupons because they deliver immediate pleasure. This not only increases client happiness but also encourages spontaneous purchases, which benefits your organization in the long run.
3. Targeted and Personalized
You may customise your offers with mobile coupons depending on client behavior, preferences, and demographics. This level of personalisation boosts the relevancy of your offers, ensuring that clients receive deals that are truly relevant to them.
4. Enhanced Customer Engagement
By offering mobile coupons, you engage customers through a direct and interactive channel. You can send push notifications, alerting them about new deals, limited-time offers, or upcoming sales events. This engagement strengthens the customer-brand relationship and fosters loyalty.
5. Eco-Friendly and Cost-Effective
With the world increasingly conscious of sustainability, mobile coupons stand out as an eco-friendly alternative to paper vouchers. Moreover, the costs associated with printing and distribution of paper coupons are eliminated, resulting in more budget-friendly SMS campaigns.
6. Real-Time Tracking and Analytics
Businesses benefit from digital coupons because they can track their performance in real time. You can track redemption rates, consumer engagement, and even peak usage hours to fine-tune your marketing efforts for optimal impact.
How Mobile Coupons Work
Implementing mobile coupons is a simple process that involves reaching out to your target audience via SMS advertising. You may smoothly distribute mobile-exclusive deals right to clients' phones using platforms like SMS Gateway Center. Customers can also display the discount on their phones or enter a unique code during checkout, which simplifies the redemption procedure.
Conclusion
The era of mobile coupons has come, and businesses that capitalize on its potential will benefit greatly. Mobile coupons increase foot traffic, sales, and consumer loyalty by providing fast savings and engaging experiences. Say goodbye to paper coupons and embrace the potential of digital vouchers to create a win-win situation for your company and its customers.
Join us at SMS Gateway Center as we guide you through the fascinating world of mobile discounts to optimize your savings potential. Transform your marketing approach by providing value to your clients and witnessing the revolutionary impact of rapid savings.
---
Save this interesting page on your favorite Social Media
---