Increase your sales with the new revolutionary marketing tool, Bulk SMS Marketing. Bulk SMS Marketing gives an important opportunity to business organization to communicate directly with their customers about their offers, discounts, new product launch etc. without any time or location.
Opting Bulk SMS marketing plan would make a huge difference to your sales and marketing division. It helps them acquire new prospects and retain existing clientele within the organization.
We have given few facts below how Bulk SMS marketing would matter with your clients and how its being used widely in the world. Make sure you are not falling apart from bulk SMS marketing, very few knows about the fact and gain much better sales and profits using bulk SMS.
Bulk SMS Marketing
Response of customers after receiving certain
 Brand Ads via Bulk SMS on their mobiles.
80% download the mobile SMS App.
67% visited advertisers site via SMS.
45% located the advertiser on map.
37% called the advertisers.
10X
more coupons are redeemed through mobile as compare to news paper, emails etc.
5X
mobile queries increased after advertising the product via SMS.
75%
stated that SMS Marketing improved their overall Brand experience.
98%
is the opening rate of advertisement through SMS as compare to email, Facebook, Twitter etc.,
75%
customers prefer receiving ads via SMS.
50%
of travels or restaurants mobile queries result in purchase.
An Infographic on Bulk SMS marketing facts: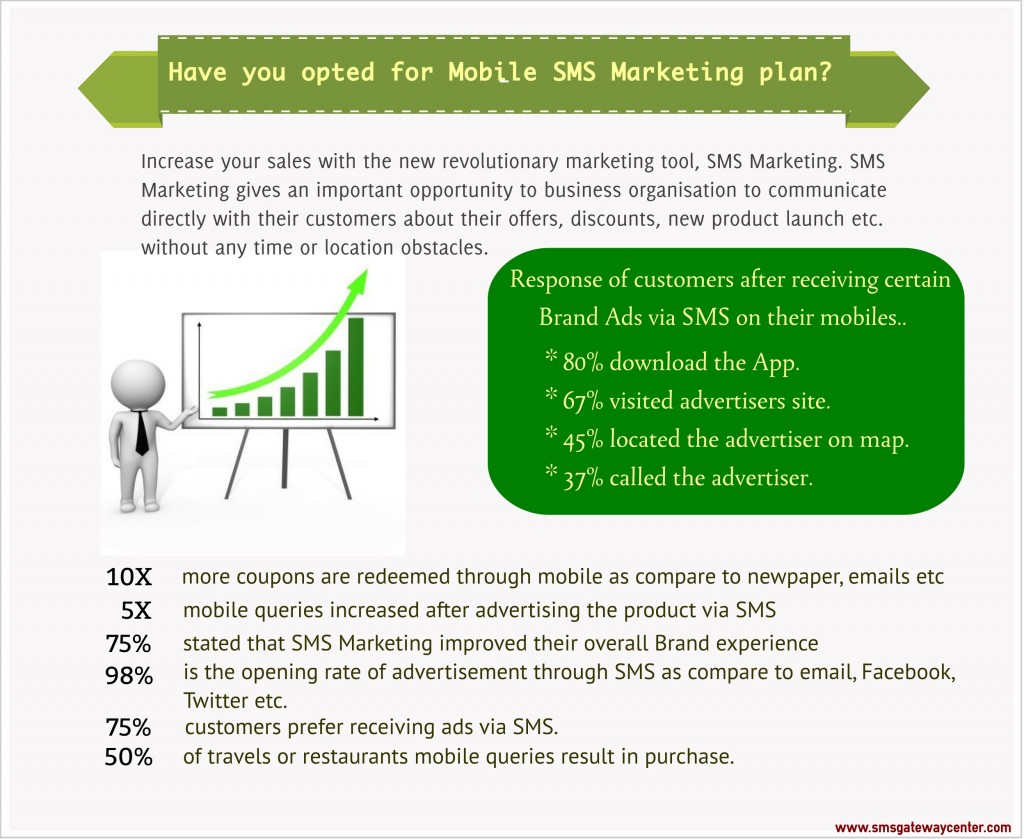 If you need to know more bulk sms facts, do not hesitate to write us in the comment and we will surely get back to you with the right solution for your business which interests your clientele. You can also call us on +919930447726 to know more on these facts and we will give live demo using our live remote support.
Are you ready to opt-in for Bulk SMS Marketing, wait no more, sign up at https://www.smsgatewaycenter.com/registration.php and get free SMS credits to test our SMS gateway.
---
Save this interesting page on your favorite Social Media
---