In the ever-evolving landscape of mobile communication, RCS (Rich Communication Services) messaging stands out as a powerful tool to revolutionize the way we interact with customers. With its enhanced features and capabilities, Google's RCS is set to shape the future of business communication in 2023 and beyond. In this article, we will delve into the exciting potential of Google's RCS messaging and how businesses can harness its power to create engaging and personalized customer experiences.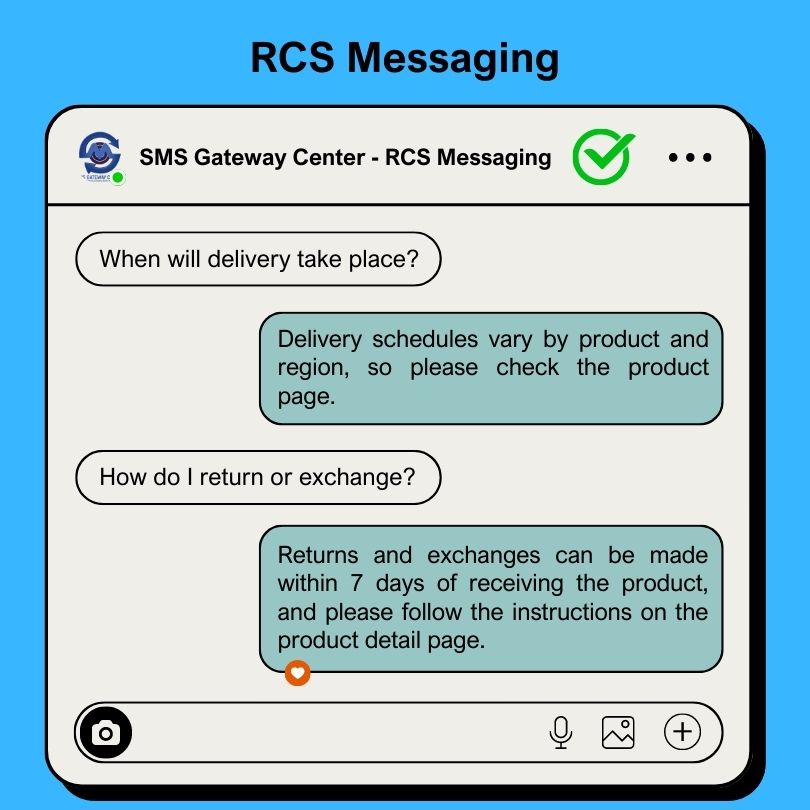 Understanding RCS Messaging:
RCS messaging is the next generation of SMS (Short Message Service) that enables businesses to send rich and interactive messages to customers. Unlike traditional SMS, RCS allows for multimedia content, such as images, videos, buttons, and carousels, which transforms the messaging experience into a dynamic and engaging conversation. With read receipts, typing indicators, and real-time delivery reports, RCS provides valuable insights into customer engagement, allowing businesses to tailor their strategies accordingly.
The Rise of RCS in Business Communication:
As 2023 unfolds, RCS is expected to gain significant traction in the business realm and delivery rate has increated up to 45%. Its ability to deliver personalized and visually appealing content fosters higher customer engagement and response rates. RCS messaging allows businesses to showcase products, services, and promotions with immersive multimedia elements, thus creating a more memorable and impactful communication channel.
Key Benefits of RCS Messaging:
a) Enhanced Customer Experience: RCS messaging elevates customer interactions by offering a seamless and interactive communication platform. With clickable buttons and suggested replies, customers can effortlessly engage with businesses, leading to higher satisfaction and loyalty.
b) Increased Brand Awareness: The visually appealing nature of RCS messages captivates recipients, boosting brand recall and awareness. Businesses can leverage RCS to showcase their unique selling propositions and stand out in the competitive market.
c) Personalized Conversations: RCS messaging enables businesses to tailor messages based on customer preferences and behavior. By incorporating customer data, businesses can deliver personalized offers and recommendations, fostering a stronger connection with customers.
d) Real-time Engagement Metrics: The built-in analytics of RCS provide valuable insights into customer behavior and interaction with messages. Businesses can measure the success of their campaigns, identify trends, and refine strategies accordingly.
Utilizing RCS for Marketing Campaigns:
In 2023, RCS will be a game-changer for marketing campaigns, allowing businesses to create compelling and results-driven campaigns. Here's how businesses can make the best of RCS in their marketing efforts:
a) Product Showcasing: RCS enables businesses to showcase their products or services using images, videos, and carousels. By presenting their offerings in a visually appealing manner, businesses can entice customers to make purchase decisions.
b) Time-Sensitive Offers: With real-time delivery reports, businesses can monitor message delivery and optimize the timing of their offers. Time-sensitive promotions can be sent to customers, creating a sense of urgency and encouraging immediate action.
c) Personalized Recommendations: Utilizing customer data, businesses can offer personalized recommendations and cross-selling opportunities. Tailored suggestions demonstrate a deep understanding of customer needs and preferences.
d) Appointment Reminders and Confirmations: RCS can be leveraged to send appointment reminders and confirmations, reducing no-show rates and enhancing customer experience.
Building Trust through RCS Messaging:
Trust is a vital element in any business relationship, and RCS messaging offers a secure and reliable platform for communication. As RCS is built on the foundation of SMS, customers can have confidence in the authenticity of the messages they receive. Businesses can use RCS to share sensitive information, such as transaction confirmations or account updates, knowing that the messages will be delivered securely and reliably.
Conclusion:
In 2023, SMS Gateway Center's RCS messaging holds immense potential for businesses to connect with customers in a more interactive, engaging, and personalized way. As the adoption of RCS continues to grow, businesses that embrace this technology will gain a competitive advantage, building stronger relationships and driving growth. By making the best of RCS messaging, businesses can elevate their customer communication and position themselves at the forefront of the mobile messaging revolution.
---
Save this interesting page on your favorite Social Media
---