In today's fast-paced world, customers expect more than just a seamless shopping experience. They want transparency and real-time information about their orders. Enter Real-Time Order Tracking via SMS – a game-changer for businesses looking to elevate their customer experience.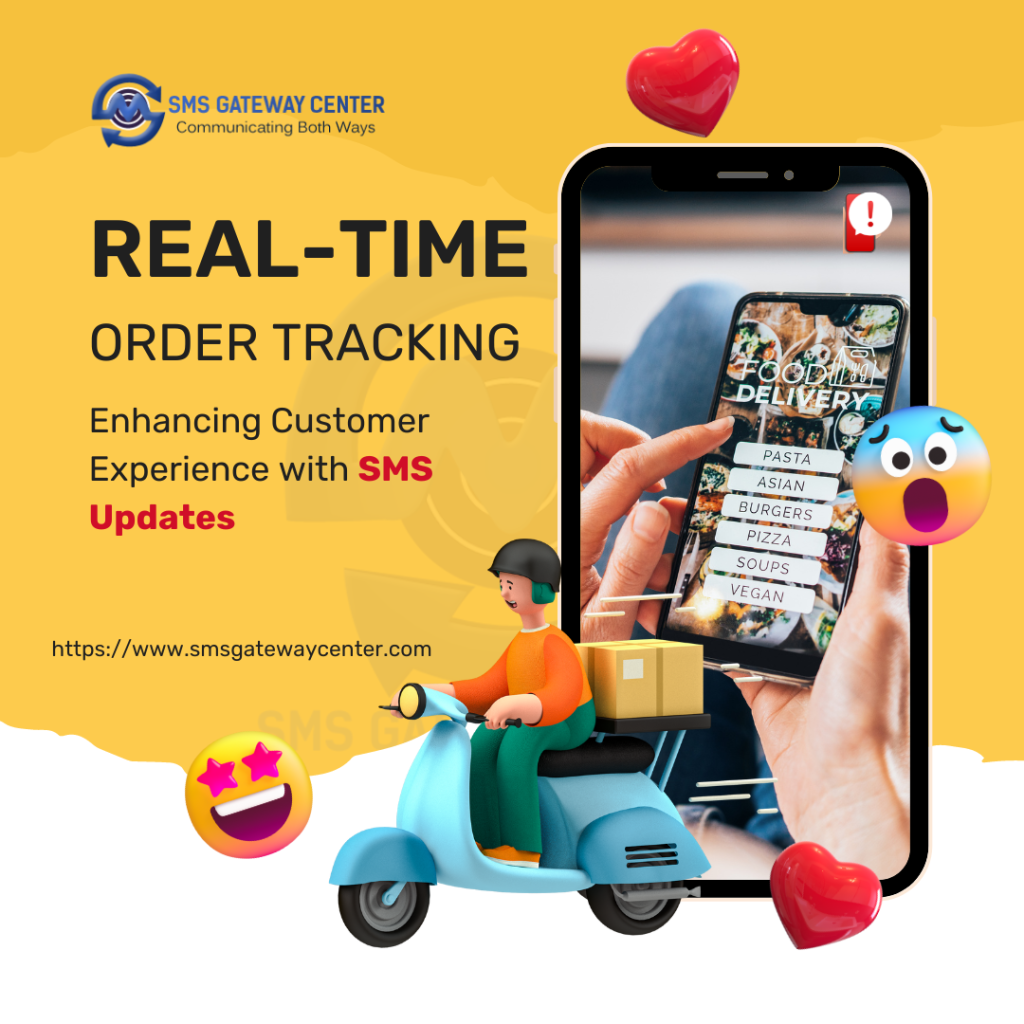 The Power of SMS in Order Tracking
Traditional methods of order tracking, while functional, often fall short in providing the immediacy that modern customers crave. Emails can be overlooked, and phone calls are time-consuming. This is where SMS steps in, delivering order updates directly to customers' mobile devices in real-time.
How Does It Work?
Imagine a scenario: a customer places an order on your website or in your store. Instead of anxiously waiting for an email or logging into a website to track their order, they receive an SMS confirmation instantly. As their order progresses – from packaging to shipping and delivery – they receive timely SMS updates.
The Benefits Are Crystal Clear
Instant Gratification: Customers appreciate the immediate notification that their order has been received. It's like a virtual pat on the back, assuring them that their purchase is in progress.
Transparency: Real-time SMS updates provide customers with a clear picture of their order's status. They know when it's shipped, out for delivery, and when to expect it.
Reduced Anxiety: No more guessing games or fretting over order delays. SMS tracking keeps customers informed and relaxed.
Fewer Support Queries: When customers can track their orders in real-time, they're less likely to flood your customer support with status inquiries.
Enhanced Loyalty: Excellent customer service fosters loyalty. Real-time order tracking shows you care about your customers' experience.
Bulk SMS Notifications for Order Updates: Keeping Customers Informed
Customers love to stay in the know, especially when it comes to their orders. Explore how businesses are using bulk SMS notifications to provide order updates, delivery estimates, and even tracking links.
Personalized Order Insights: How SMS Can Enhance the Shopping Experience
Discover how personalized SMS messages can go beyond generic order updates. Learn how businesses are using customer data to send tailored recommendations, exclusive offers, and even product reviews to enhance the overall shopping experience.
Including these topics will provide readers with a broader perspective on how SMS can be a versatile tool for improving customer experience in the realm of order tracking and e-commerce.
Implementing SMS Order Tracking with SMSGatewayCenter
Implementing SMS order tracking with SMSGatewayCenter is a breeze. Our platform seamlessly integrates with your e-commerce system, allowing for automated SMS updates at every stage of the order journey. Here's how you can get started:
Sign Up: If you're not already a member, sign up with SMSGatewayCenter. It's quick and easy.
Integration: Integrate our SMS services into your order management system. We offer robust APIs for smooth integration.
Customization: Tailor SMS templates to match your brand's tone and style. Make the messages informative and engaging.
Automation: Set up triggers to send SMS updates automatically. Define when and what type of messages customers should receive.
Delivery Reports: Monitor SMS delivery and ensure that customers receive timely updates.
Conclusion
Real-time order tracking via SMS is more than just a service; it's a valuable tool for enhancing customer experience and boosting loyalty. Customers today value transparency, and SMS order tracking offers just that. It's the modern way of keeping customers in the loop without inundating them with emails or lengthy processes.
With SMSGatewayCenter, you can streamline your order tracking process, improve customer satisfaction, and elevate your brand's reputation. Try it today and witness the positive impact it can have on your business.
Learn more about Real-Time Order Tracking and SMS marketing at SMSGatewayCenter Blog.
---
Save this interesting page on your favorite Social Media
---