Sending Bulk SMS doesn't have to be a one-way street. In this article you'll learn how to add attachments or files like music and videos, docs, spreadsheets, and other types of data you want to share with your contacts to get it delivered reliably with their phone.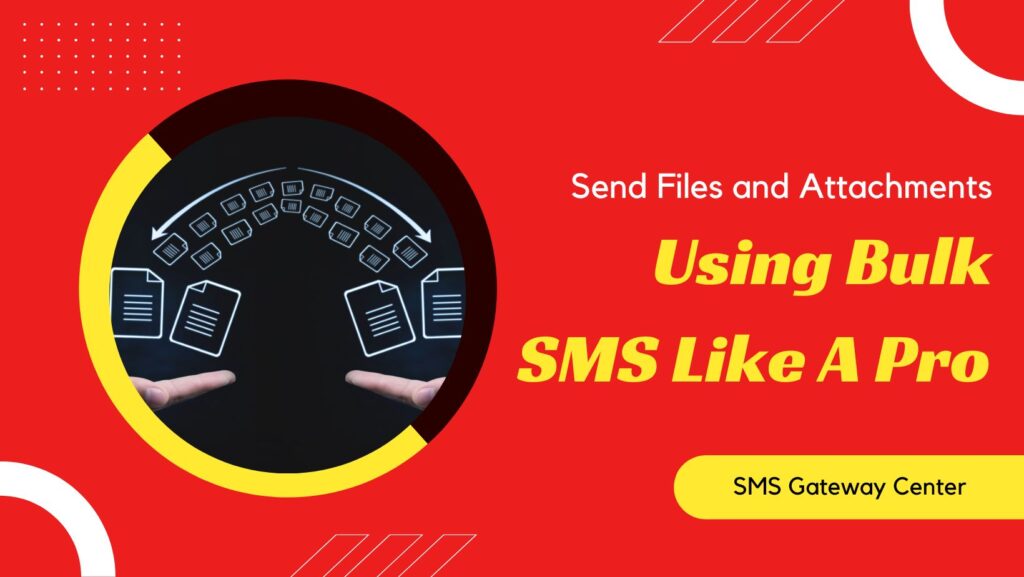 Why Send Attachments or Files with Bulk SMS?
There are many reasons why you might want to send a file or attachment along with your bulk SMS messages. Maybe you need to send a PDF or other document to a large group of people, or you want to share a photo or video with them. Whatever the reason, it's easy to do with bulk SMS.
Sending attachments with bulk SMS is a great way to ensure that everyone in your group receives the same information at the same time. This can be especially helpful if you're sending time-sensitive information or if you need to make sure that everyone has the most up-to-date version of a document.
Plus, sending attachments with bulk SMS is fast and easy. All you need to do is upload the file that you want to send and add it to your bulk SMS message. Then, just select the recipients and hit send – it's that simple!
How to Send a File or Document through Bulk SMS?
Files can be sent through Bulk SMS in the same way as any other type of attachment, using the MMS function. To send a file using Bulk SMS, simply:
Open the file you wish to send.
Tap the Smart Link button and browse and upload files.
Select Compose SMS.
Write your message content along with Smart Link.
Input the phone number you wish to send the file to.
With Bulk SMS, you can easily and quickly send files and attachments to anyone, without having to worry about file size limits or costly MMS fees.
How to Send an SMS Containing a File in Zip or PDF Format via SMSGatewayCenter Bulk SMS?
Sending files like PDFs or zipped folders through SMS may be required when working with clients or colleagues. It is a simple process if you have the right gateway. Here's how to send an SMS containing a file in Zip or PDF format via SMSGatewayCenter:
Log into your Bulk SMS account on SMSGatewayCenter.com.
Type the phone number of the recipient into the "Mobile" field.
Click on the "Attach File" button and select the file you wish to send.
In the "Message" field, type the message you wish to include with the file attachment Smart Link.
Click on the "Send" button to send your message with the attached file.
How to Send PDF Files to Mobile Phones by Using Bulk SMS?
Are you looking for an efficient and cost-effective way to send PDF files to mobile phones? If so, you should consider using bulk SMS. Bulk SMS is a mass texting service that allows you to send text messages to multiple recipients at once. This can be a great way to send out attachments, such as PDF files, to a large group of people without having to individually email each person.
There are a few things you need to know in order to successfully send PDF files via bulk SMS. First, make sure that the file size is not too large. File sizes over 50 MB may not be able to be sent via text message. If the file size is too large, consider sending it through a different method, such as email.
Next, you will need to have the recipient's phone number. Once you have their phone number, you can either add it to a contact list in your bulk SMS account or simply type it in when composing your message. Make sure that you include the correct country code when adding international numbers.
Finally, when composing your message, simply attach the PDF file using our Smart Link feature, that you wish to send just like you would any other attachment. You can then send your message as normal. The recipient will receive the PDF just like they would any other attachment.
Conclusion
Bulk SMS is a great way to send files and attachments to multiple people at once. With its easy-to-use interface and affordability, it's no wonder that Bulk SMS is becoming increasingly popular for sending high quality files and attachments. So if you're looking for an efficient way to send files and attachments, Bulk SMS is the way to go.
---
Save this interesting page on your favorite Social Media
---