In today's fast-paced world, managing appointments efficiently is essential for any business or service provider. Whether you're a healthcare professional, salon owner, or run any appointment-based service, the key to success lies in optimizing scheduling and ensuring your clients show up on time. Enter SMS Appointment Reminders, a game-changing solution that brings convenience, reduces no-shows, and elevates your customer service to new heights.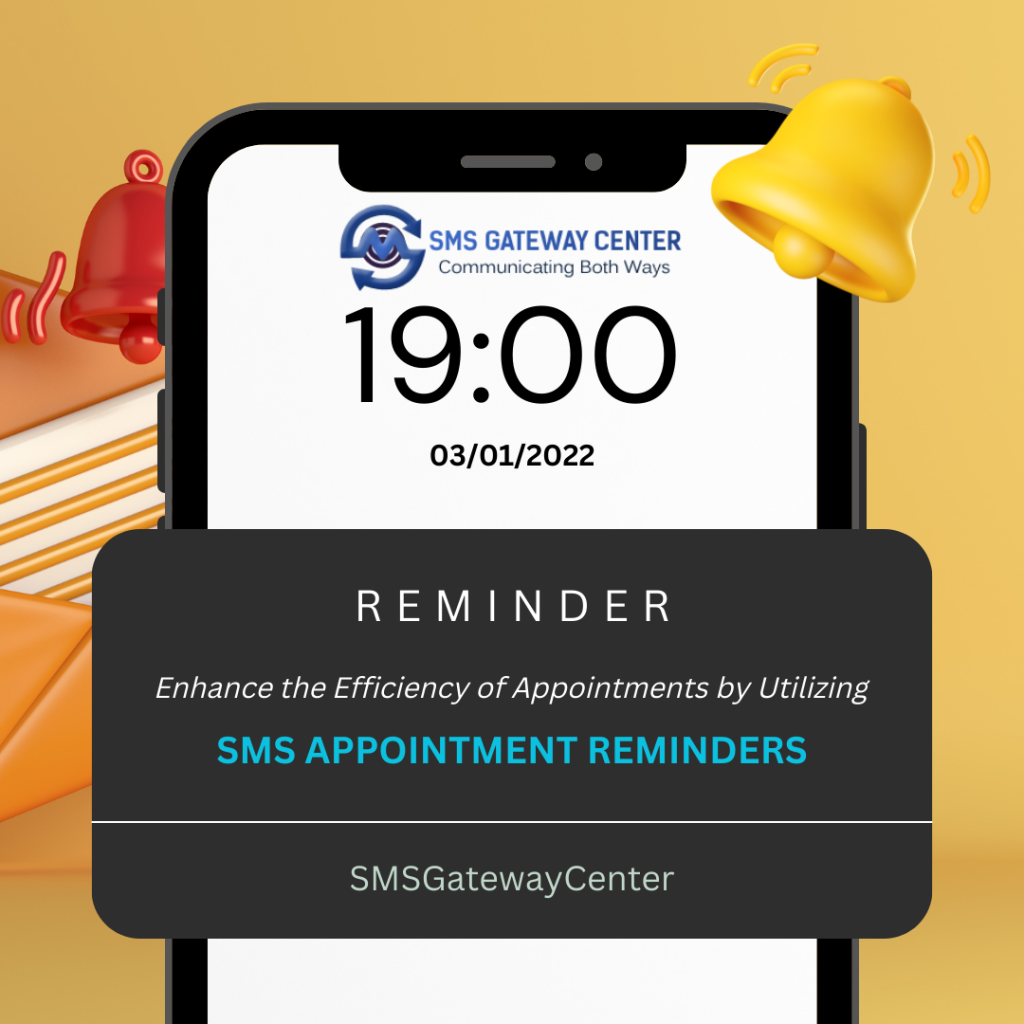 Streamlining Appointments with SMSGatewayCenter
At SMSGatewayCenter, we understand the critical role that appointments play in your business. That's why we offer SMS Appointment Reminders as a versatile and powerful tool to help you streamline your scheduling processes.
Real-Time Appointment Reminders
In a world where time is of the essence, SMS Appointment Reminders shine as a beacon of efficiency. Our service enables you to send real-time reminders to your clients, ensuring they don't miss their appointments. These reminders can include crucial details such as the appointment date, time, location, and any specific instructions.
Enhancing Customer Service
Your clients' experience begins from the moment they schedule an appointment. SMS Appointment Reminders are a proactive way to showcase your commitment to customer service. By sending timely reminders, you demonstrate that you value your clients' time and want to make their visit as hassle-free as possible.
Reducing No-Shows and Cancellations
No-shows and appointment cancellations can be a significant drain on your resources. SMS Appointment Reminders act as a powerful deterrent against such occurrences. When clients receive a friendly SMS reminder, they are more likely to keep their appointments as scheduled. This not only saves you time but also helps you maintain a steady flow of business.
Versatility and Customization
Every business is unique, and so are its appointment requirements. SMSGatewayCenter's SMS Appointment Reminders offer versatility and customization options to meet your specific needs. You can tailor each reminder to include information relevant to the appointment type or client preferences.
Why Choose SMSGatewayCenter?
Our platform is designed with your success in mind. We prioritize deliverability, ensuring that your SMS reminders reach your clients without delay. With our scheduling feature, you can set reminders to go out at the most convenient times, increasing the chances of your clients seeing and acting on them.
We also offer detailed reporting and analytics, allowing you to track the success of your SMS reminders and make data-driven improvements to your appointment management strategy.
Conclusion
In conclusion, SMS Appointment Reminders are the modern solution to appointment scheduling woes. They provide real-time reminders, enhance customer service, reduce no-shows, and offer versatility tailored to your business needs. At SMSGatewayCenter, we're here to empower your business with this indispensable tool.
So, whether you're in healthcare, beauty, or any industry that relies on appointments, it's time to elevate your appointment management game with SMS Appointment Reminders from SMSGatewayCenter. Say goodbye to no-shows and scheduling headaches and say hello to a smoother, more efficient operation.
---
Save this interesting page on your favorite Social Media
---