Businesses are discovering creative methods to improve the auction experience, where every second matters. One such method is the utilization of SMS auction alerts, a game-changer that redefines how bidders participate in auctions. In this article, we'll delve into the world of SMS auction alerts, exploring how they can inject excitement into limited-time auctions and keep bidders engaged. And of course, we'll discuss how SMSGatewayCenter can assist you in this thrilling journey.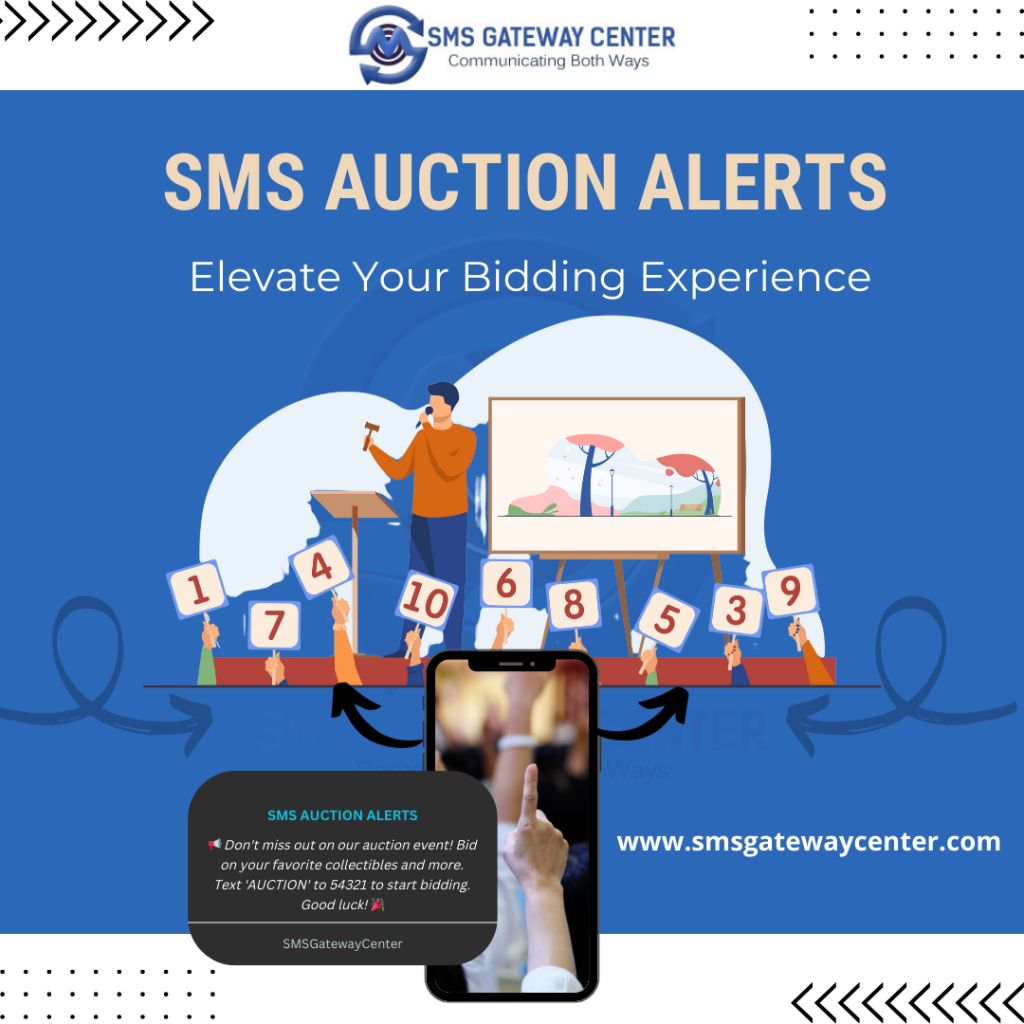 The Auction Rush:
Imagine this: You're eyeing a rare collectible in an online auction. As the bidding deadline approaches, your phone chimes with an SMS alert. It's a reminder that the auction is about to end, and someone has placed a higher bid. You have seconds to decide – do you bid again? That's the power of SMS auction alerts. They add a rush of adrenaline, making auctions more dynamic and competitive.
Real-Time Updates:
Auction enthusiasts crave real-time updates. SMS auction alerts provide just that. They keep bidders informed about crucial moments in the auction, such as when they've been outbid or when the auction is about to close. This immediacy ensures that bidders stay engaged and don't miss out on the items they desire.
Why SMS Marketing Works:
SMS marketing, with its impressive open rates, is the ideal medium for auction alerts. Studies show that SMS messages have open rates as high as 98%, ensuring that your alerts are noticed promptly. This is especially crucial in auctions, where timing is everything.
SMSGatewayCenter: Your Auction Partner:
Now, you might be wondering how to seamlessly incorporate SMS auction alerts into your auction strategy. This is where SMSGatewayCenter steps in. Our platform is designed to help you create, manage, and send engaging SMS auction alerts.
Key Features of SMSGatewayCenter:
Effortless Alert Creation: With our user-friendly interface, you can effortlessly create and schedule auction alerts.
Bid Notifications: Keep bidders in the loop with real-time bid notifications, ensuring that they never miss a beat.
Customization: Personalize your auction alerts to match your brand's tone and style.
Timely Delivery: Rest easy knowing that your SMS auction alerts will be delivered promptly.
Enhancing the Auction Experience:
Increasing Bidder Engagement: SMS auction alerts create a sense of urgency, encouraging bidders to actively participate and place competitive bids.
Reducing Bidder Frustration: Real-time updates on bidding activity reduce bidder frustration, as they are always aware of their standing.
Expanding Your Auction Reach: SMS alerts can reach a wider audience, potentially attracting new bidders to your auctions.
Improving Auction Success: Well-informed and engaged bidders are more likely to bid frequently and drive up auction prices, leading to greater success for your auctions.
Conclusion:
In a world where auctions are fast-paced and competitive, SMS auction alerts can be your secret weapon. They inject excitement, engage bidders, and ensure that no bid goes unnoticed. By harnessing the potential of SMS marketing and partnering with SMSGatewayCenter, you can take your auctions to the next level.
Elevate your bidding experience. Choose SMSGatewayCenter for engaging and effective SMS auction alerts.
Learn more about how SMSGatewayCenter can transform your auction strategy. Contact us today.
---
Save this interesting page on your favorite Social Media
---