In the ever-evolving landscape of marketing strategies, businesses are constantly seeking innovative ways to engage their audience and stand out from the competition. One powerful and proven method that has stood the test of time is SMS contests and prizes. This dynamic approach not only captivates your customers but also offers them the thrill of winning exciting rewards. At SMSGatewayCenter, we're excited to introduce you to the world of SMS contests and prizes, a game-changing tool to amplify your brand's reach and customer engagement.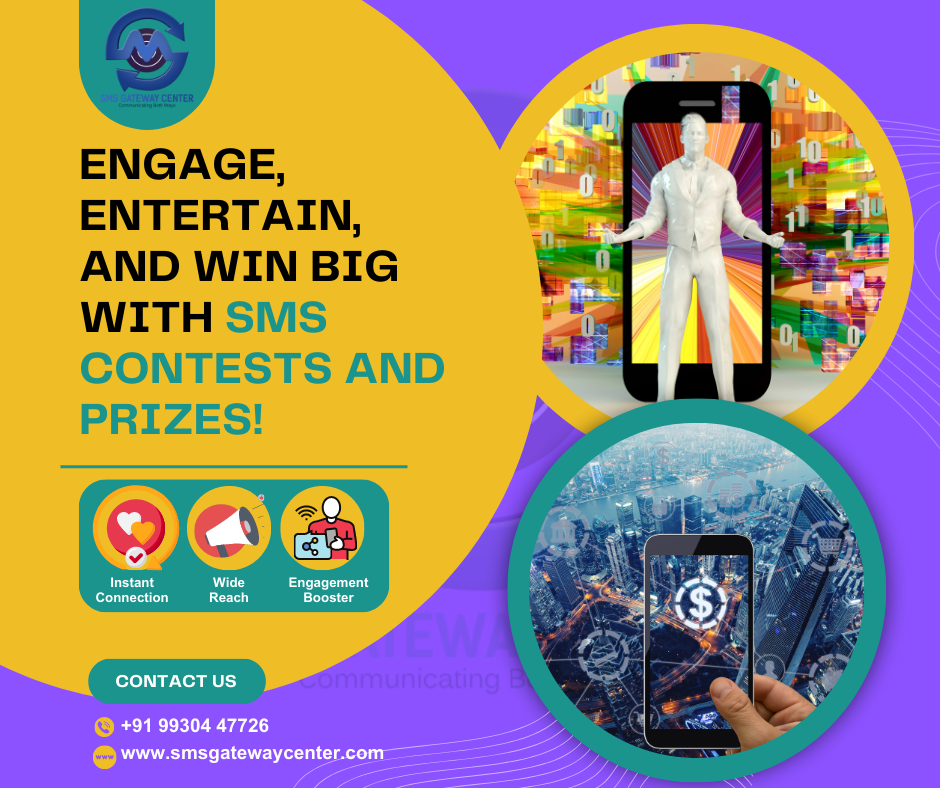 The Allure of SMS Contests and Prizes
Imagine receiving a personalised SMS that invites you to participate in a contest with the promise of winning fantastic prizes. This creates an immediate sense of excitement and involvement. SMS contests are an excellent way to create a buzz around your brand, products, or services. By integrating gamification into your marketing strategy, you can leverage the innate human desire for competition and rewards to drive customer engagement.
Why Choose SMS Contests?
Instant Connection: SMS contests cut through the clutter and directly reach your customers' pockets. With high open rates, your contest message is likely to be read within minutes of delivery.
Wide Reach: SMS contests are accessible to a vast audience, as they don't require internet connectivity or smartphone usage. This inclusivity ensures that a diverse range of customers can participate.
Engagement Booster: Contests evoke a sense of participation and excitement, encouraging customers to interact with your brand. As they share their entries or results, your brand gains organic exposure.
Data Collection: SMS contests provide a seamless way to collect valuable customer data, such as phone numbers and preferences, which can be used for future marketing campaigns.
The SMSGatewayCenter Advantage
At SMSGatewayCenter, we specialize in crafting seamless SMS contest solutions that align with your brand's objectives. Our platform allows you to effortlessly create and manage SMS contests that resonate with your target audience. Whether it's a quiz, lucky draw, photo contest, or any other creative idea, our platform is your canvas to bring your vision to life.
With SMSGatewayCenter, you can:
Customize contest rules and mechanics.
Set up automated responses for immediate participant engagement.
Collect and analyze participant data for insights into customer preferences.
Streamline winner selection and prize distribution processes.
Integrate SMS contests with your overall marketing strategy.
Driving Success with SMS Prizes
Prizes play a pivotal role in the success of SMS contests. The allure of winning something valuable creates a strong incentive for participation. As a business, you have the flexibility to decide the nature and scale of prizes. These prizes could range from discounts, exclusive products, vouchers, experiences, or even grand giveaways. The key is to ensure that the prizes are aligned with your target audience's interests and desires.
Get Started with SMS Contests Today!
Ready to elevate your marketing game? Embrace the power of SMS contests and prizes to connect with your audience on a deeper level, generate excitement, and enhance brand loyalty. At SMSGatewayCenter, we're here to help you conceptualize, execute, and maximize the impact of your SMS contests.
Stand out in the competitive landscape, make a lasting impression, and create memorable customer experiences with SMS contests and prizes. Get in touch with us today to explore how you can create winning moments for your customers while achieving your business goals.
---
Save this interesting page on your favorite Social Media
---