In today's fast-paced business landscape, understanding your customers' needs and preferences is essential. One of the most effective ways to gather valuable insights is through SMS customer surveys. In this article, we'll explore how SMS surveys can help you gain a deeper understanding of your customers and drive business growth.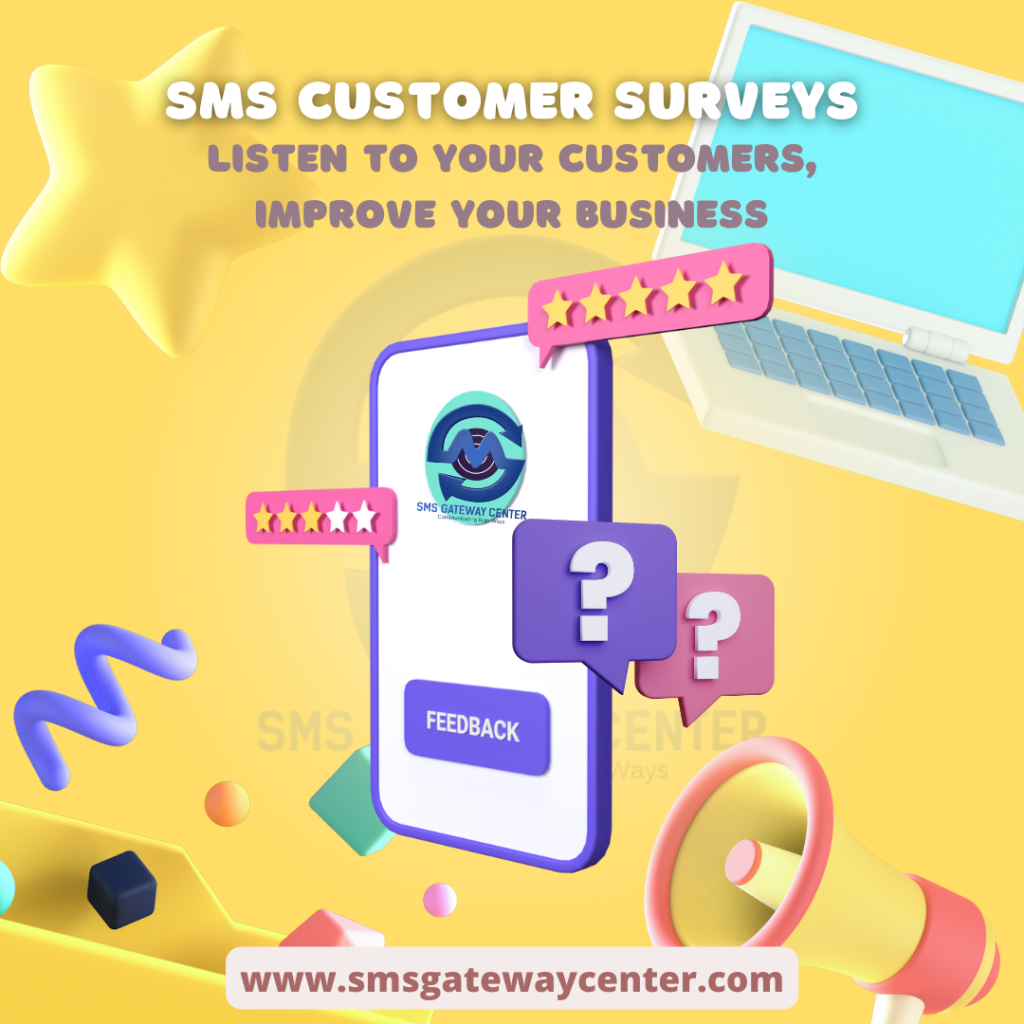 Why SMS Surveys Matter
Customer feedback is the lifeblood of any successful business. It provides you with crucial insights into customer satisfaction, areas for improvement, and opportunities for innovation. While there are various methods for collecting feedback, SMS surveys offer a unique set of advantages.
Instant and Convenient: Unlike traditional surveys that require customers to visit a website or fill out lengthy forms, SMS surveys are quick and hassle-free. Customers can respond at their convenience, making it more likely for them to participate.
Higher Response Rates: SMS boasts higher open and response rates compared to email or phone surveys. People are more likely to read and reply to a text message promptly.
Real-Time Feedback: SMS surveys enable you to collect feedback in real-time. This immediacy allows you to address issues promptly and make necessary improvements.
Personalized Engagement: SMS surveys can be customized to address individual customers by name, making the interaction more personal and meaningful.
How SMS Surveys Work
Implementing SMS surveys with SMSGatewayCenter is straightforward. You can create and schedule surveys to be sent to your customers at the right moment. For example, you can send an SMS survey immediately after a purchase or service interaction when the experience is still fresh in the customer's mind.
Benefits of SMS Surveys with SMSGatewayCenter
Higher Participation: Due to the convenience of SMS, you can expect higher participation rates, giving you a more representative sample of your customer base.
Quick Insights: With real-time responses, you gain instant insights into customer opinions and sentiments.
Improved Customer Satisfaction: Addressing issues raised in SMS surveys can lead to better customer experiences and increased satisfaction.
Data-Driven Decisions: Use the feedback collected to make informed decisions about product enhancements, service improvements, and marketing strategies.
Getting Started with SMS Surveys
If you're new to SMS surveys, SMSGatewayCenter offers user-friendly tools and templates to help you get started. You can customize survey questions, schedule distribution, and analyze results all from a single platform.
SMS Contest and Rewards
Engage Your Audience: Explore how SMS contests and rewards can be integrated with SMS surveys to further engage your audience. Learn how incentivizing participation can lead to valuable insights and customer loyalty.
Multi-Channel Feedback Integration
A Comprehensive Approach: Discover the benefits of integrating SMS surveys with feedback collected from other channels, such as social media and email. Learn how a multi-channel feedback strategy can provide a holistic view of customer sentiment and preferences.
Conclusion
In conclusion, SMS customer surveys are a powerful tool for businesses looking to stay connected with their customers and continuously improve their offerings. With SMSGatewayCenter's SMS survey solutions, you can gather valuable feedback, make data-driven decisions, and enhance customer satisfaction. Don't miss out on this opportunity to engage with your customers and drive business growth.
---
Save this interesting page on your favorite Social Media
---