Businesses are continuously looking for fresh approaches to grab the attention of their audience in the hectic world of retail, where every second matters. The holiday sale countdown is one such strategy that has proven effective; it is a clever move that not only attracts your clients' attention but also keeps them excitedly anticipating your big deal. In this post, we'll examine how companies may use SMS marketing to effectively use holiday sale countdowns to generate buzz around their sales events. And yes, we'll also look at how SMSGatewayCenter may assist you in maximizing the potential of this intriguing tactic.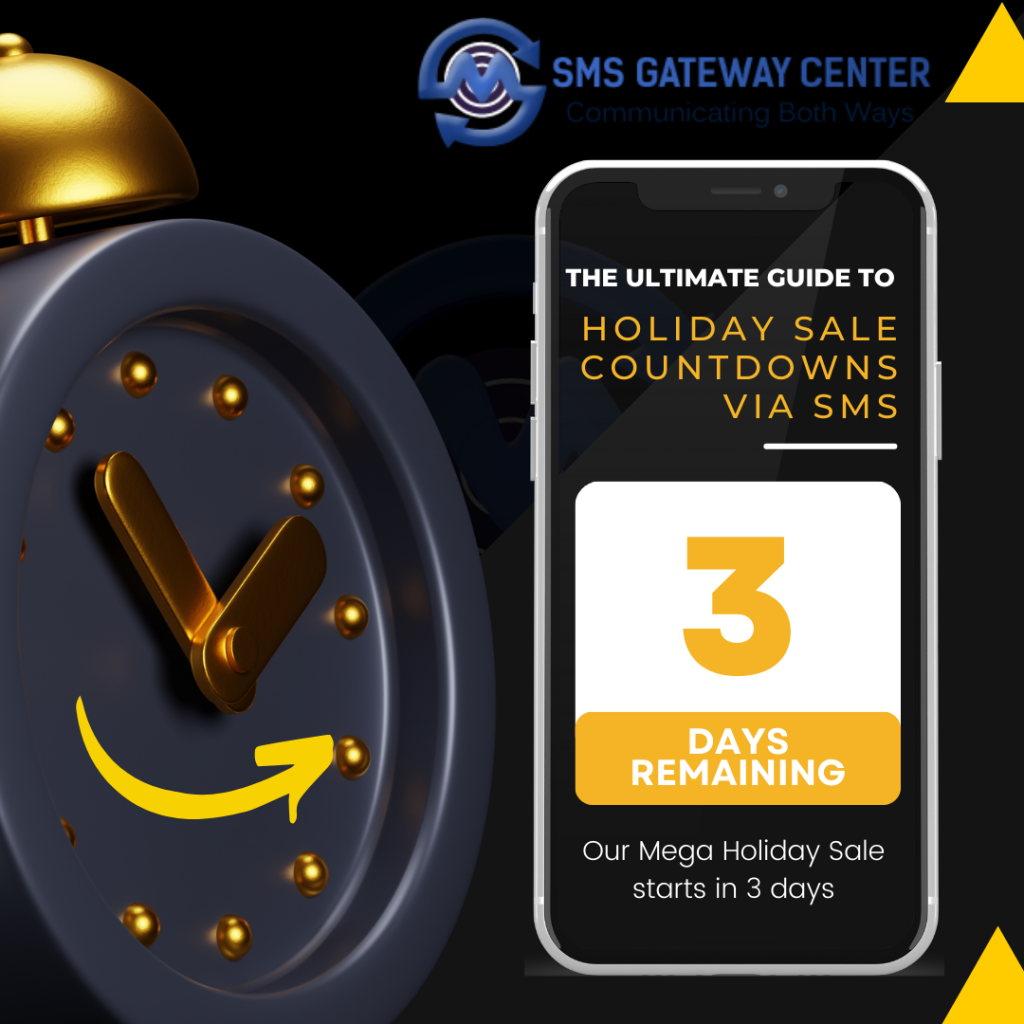 The Art of the Countdown
Imagine this: you receive a text message on your phone with the exciting news – "Our Mega Holiday Sale starts in 3 days!" It's short, it's impactful, and it creates an immediate sense of anticipation. That's the power of a holiday sale countdown via bulk SMS. It builds excitement and triggers curiosity among your audience.
Creating Holiday Magic
Holidays are a time when customers are on the lookout for the best deals. By running a holiday sale countdown via SMS, you are not only informing them about your upcoming sale but also making them feel like they're part of something exclusive. This builds a sense of belonging and loyalty to your brand.
Why SMS Marketing Works
SMS marketing is a direct and personal channel. When you send a holiday sale countdown via SMS, you're reaching your audience where they're most attentive—their mobile devices. Studies show that bulk SMS messages have open rates as high as 98%. This means that your countdown is almost guaranteed to be seen.
SMSGatewayCenter: Your Partner in Countdowns
Now, you might be wondering how to seamlessly incorporate holiday sale countdowns into your SMS marketing strategy. This is where SMSGatewayCenter comes into play. Our platform is designed to help you create, manage, and send engaging SMS content, including countdowns.
Key Features of SMSGatewayCenter
Easy Campaign Management: Effortlessly create and schedule holiday sale countdown campaigns with our user-friendly interface.
Audience Segmentation: Target specific customer segments based on their preferences and behaviors.
Real-Time Analytics: Track the performance of your countdowns in real-time to make data-driven decisions.
Personalization: Craft personalised SMS messages that resonate with each recipient.
Reliability: Rest easy knowing that your countdowns will be delivered promptly and reliably.
Conclusion
Holiday sale countdowns can be your winning technique in a world when timing is everything. They instill a sense of luxury, involvement, and expectation in your customers. By utilizing SMS marketing's potential and working with SMSGatewayCenter, you can up your holiday sale game and establish yourself as the go-to option for your clients.
Countdown to success with SMSGatewayCenter. Make your holiday sales memorable and profitable with our SMS marketing solutions.
Learn more about how SMSGatewayCenter can transform your marketing strategy. Contact us today.
---
Save this interesting page on your favorite Social Media
---