SMS Marketing is a powerful tool for fitness centres, gyms, and wellness businesses to promote their services and message. As the number of mobile devices increases, so does the reach your marketing messages will have on a much larger audience. SMS Marketing for fitness centres and gyms provides an effective method for reaching potential clients to entertain them with daily activities.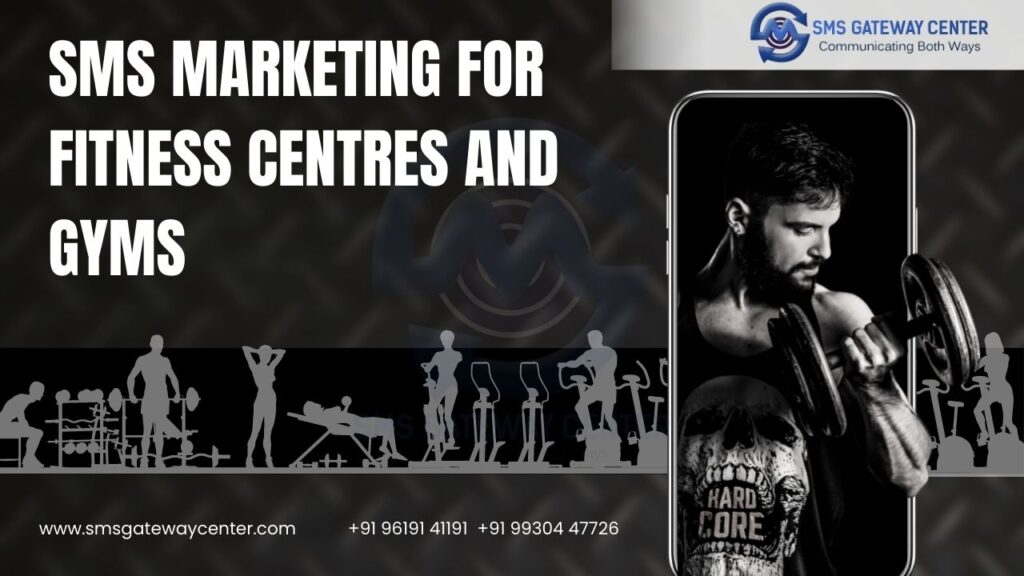 Customers Love SMS Messaging
There are plenty of reasons to love SMS messaging, and customers of fitness centres and gyms are no exception. Here are just a few of the reasons why customers love SMS messaging from their favourite fitness centre or gym:
It's quick and easy to send a text message, so customers can quickly get in touch with the gym or their personal trainer without having to make a phone call.
Customers can easily keep track of their workouts and progress by receiving text messages from the gym with updates on their workout goals.
SMS messaging is a great way for customers to stay motivated and on track with their fitness goals, as they can receive motivational messages and reminders directly from the gym.
Customers can also take advantage of exclusive deals and promotions offered by the gym through SMS messaging, which helps them save money on membership fees and other expenses.
Texting is a Direct, Personal Way to Communicate
Texting is a direct, personal way to communicate. You can send one-to-one messages or group SMS messages. And, unlike some other communication channels, like email, you can be sure that your text will be read almost immediately. Plus, with people spending more time on their phones than ever before, text messaging is a great way to reach your target audience where they are.
That's why SMS marketing is such a powerful tool for fitness centres and gyms. It's a way to quickly and easily send reminders about classes and events, promotions and discounts, and even tips and advice about staying healthy and fit.
SMS marketing can be used to boost membership retention rates, increase the number of attendees per class, and encourage customers to book future appointments. All of which leads to more revenue for your business!
The Right Keywords can Help you Reach New Customers
If you're running a fitness centre or gym, SMS marketing can be a great way to reach new customers. But in order for your SMS campaign to be successful, you need to choose the right keywords. Here are some tips for choosing the right keywords for your fitness centre or gym's SMS marketing campaign:
Think about what potential customers would search for. If you're targeting people who are looking to join a gym, some relevant keywords might be gym membership, fitness centre, or workout.
Make sure your keywords are relevant to your location. If you're a local gym, adding your city or state in your keyword list can help potential customers find you more easily.
Use keyword research tools to find popular keywords related to fitness and gyms. Google AdWords Keyword Planner and SEMrush are two great options.
Once you've selected some good keywords, add them into your SMS marketing messages in strategic places like the subject line, message body, and call-to-action.
By following these tips, you can ensure that your fitness centre or gym's SMS marketing campaign targets the right audience and reaches new potential customers who are interested in what you have to offer!
Texting is an Effective Marketing Tool for Gyms and Fitness Centres of all Sizes
No matter the size of your gym or fitness centre, SMS marketing is an effective way to reach your target market. By sending text messages with updates on class schedules, promotions, and even reminders to work out, you can stay top of mind with your customers and encourage them to take action.
In today's age, nearly everyone has a smartphone within arm's reach at all times. This makes it easy for customers to sign up for text message alerts from their favourite businesses. And since people are used to checking their phones regularly throughout the day, they're more likely to see your message right away.
SMS marketing is also a great way to connect with potential new customers. If you're running a special promotion or offer, you can reach out to people who haven't yet signed up for your gym or fitness centre. This could be the extra push they need to finally take the plunge and become a member.
There are a few things to keep in mind when crafting your SMS marketing strategy: make sure your messages are clear and concise, avoid spamming people's phones with too many texts, and give customers an easy way to opt-out if they're not interested. But as long as you stick to these guidelines, you'll be able to effectively reach your target market through bulk SMS marketing.
Send Information about New Equipment and Training Classes
As a fitness centre or gym, it's important to keep your clients up-to-date on new equipment and training classes. SMS marketing is a great way to do this. You can easily send out mass texts to all of your clients with the click of a button. Plus, your clients are more likely to read a text than an email, making SMS marketing an effective way to communicate with your target audience.
Conclusion
SMS marketing can be a great way to attract new customers and keep existing ones engaged with your fitness centre or gym. With the right strategy in place, you can use SMS messages to promote special offers, remind people of upcoming events, and share other significant information. If you're not sure where to start, SMS Gateway Center have put together a list of tips to help you get started with SMS marketing for your fitness business. Thanks for reading!
---
Save this interesting page on your favorite Social Media
---