Collaboration is essential for development in the dynamic corporate world. Traditional lines are blending as businesses look for creative methods to reach new audiences and interact with existing ones. SMS collaborations are one such route that has gained traction in recent years. We will go into the area of SMS collaborations in this post and see how companies can use this tactic to promote growth. We'll also explain how SMSGatewayCenter can be your dependable partner on this collaborative path.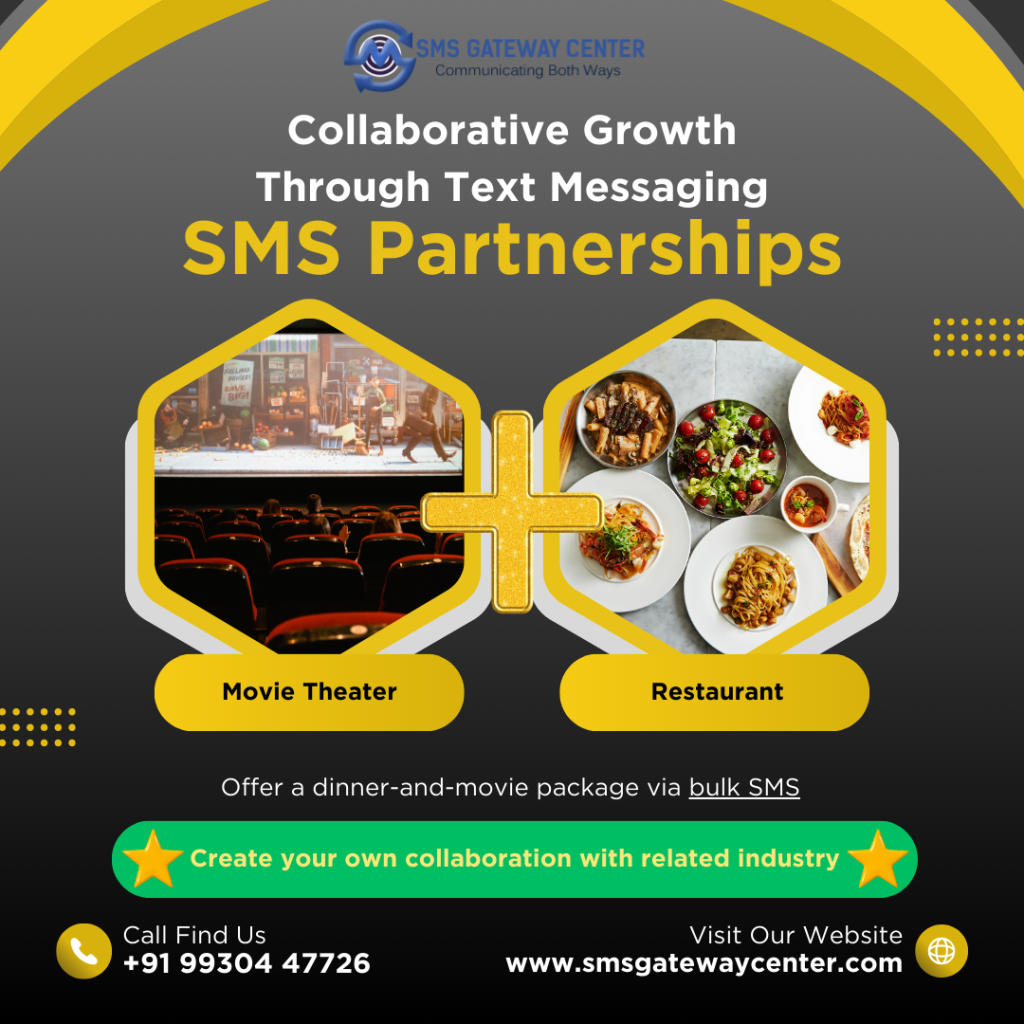 The Power of Collaboration
Collaboration has always been at the heart of human progress. Whether it's two artists merging their talents to create a masterpiece or businesses joining forces to reach new markets, collaboration catalyzes growth. In the digital age, SMS partnerships are the modern embodiment of this concept. They involve businesses coming together to harness the potential of text messaging for mutual benefit.
Why SMS Partnerships Work
SMS marketing is a direct and personal channel. When two businesses collaborate and share their customer base, they can access a wider audience while maintaining the personal touch that SMS offers. This synergy can lead to increased brand visibility, customer engagement, and ultimately, revenue growth.
Types of SMS Partnerships
Co-Promotions: In this partnership, two or more businesses promote each other's products or services through SMS campaigns. For example, a restaurant and a nearby movie theater might collaborate to offer a dinner-and-movie package via bulk SMS.
Referral Programs: Businesses can partner to create referral programs where they recommend each other to their respective customers. This can be a win-win situation, fostering trust and driving referrals.
Joint Events: Hosting joint events and using SMS to invite customers can be a powerful way to create buzz and attract attendees. For instance, a gym and a nutrition store could organize a fitness and wellness workshop.
SMSGatewayCenter: Your SMS Collaboration Partner
Wondering how to seamlessly incorporate SMS partnerships into your marketing strategy? Look no further than SMSGatewayCenter. Our platform is designed to facilitate collaborative SMS campaigns.
Key Features of SMSGatewayCenter
Easy Partner Management: Effortlessly manage and coordinate SMS campaigns with your partners.
Audience Segmentation: Target specific customer segments to maximize the impact of your collaborative efforts.
Real-Time Analytics: Monitor the performance of your SMS partnerships in real time, allowing for data-driven decisions.
Personalization: Craft personalized messages that resonate with each recipient, enhancing the effectiveness of your campaigns.
Reliability: Rest easy knowing that your collaborative SMS messages will be delivered promptly and reliably.
Conclusion
In a world where businesses are stronger together, SMS partnerships open up exciting possibilities for growth. By collaborating with like-minded businesses and harnessing the potential of SMS marketing, you can expand your reach, engage new customers, and ultimately, thrive in your industry. Trust in SMSGatewayCenter to be your SMS collaboration partner, helping you achieve collaborative growth and success.
Discover how SMSGatewayCenter can transform your collaborative marketing strategy. Contact us today.
---
Save this interesting page on your favorite Social Media
---