Evaluate the effectiveness of SMS rewards systems in fostering long-term consumer loyalty. Learn how SMS marketing may increase client retention and how SMSGatewayCenter can assist you in implementing effective incentive programs.
In today's fiercely competitive business landscape, building strong and lasting customer relationships is more critical than ever before. One powerful strategy that forward-thinking businesses are leveraging to achieve this is through SMS rewards programs. These programs not only retain existing customers but also entice them to keep coming back for more. In this article, we will dive deep into the world of SMS rewards programs, exploring how they can help businesses forge enduring connections with their customer base. Additionally, we will introduce you to the SMSGatewayCenter platform, your indispensable ally in creating highly effective rewards programs.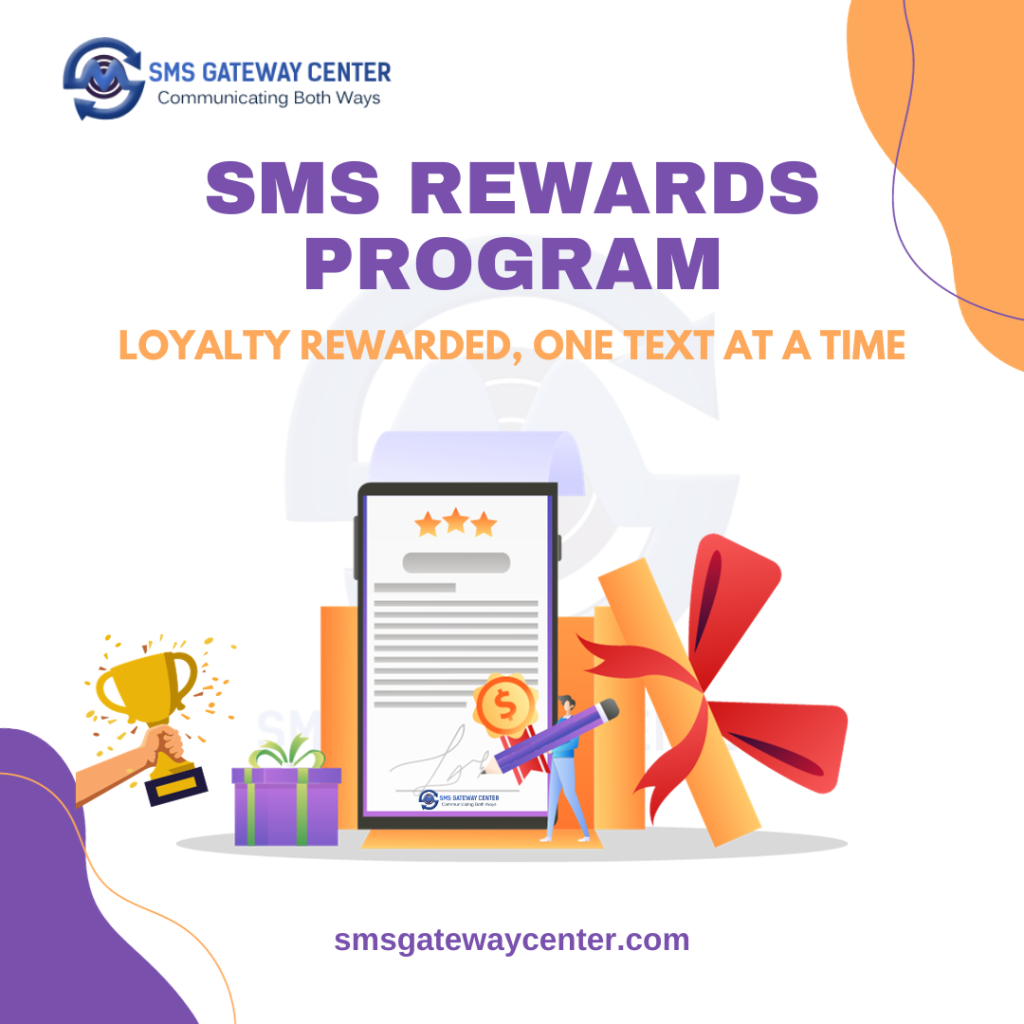 The Dynamics of Customer Loyalty:
Loyalty is not a one-sided affair; it's a reciprocal relationship. When customers feel appreciated, valued, and recognized, they are more likely to remain loyal to a brand. SMS rewards programs are ingeniously designed to nurture this relationship. They allow customers to effortlessly earn points or rewards with every purchase, interaction, or engagement, creating a sense of reciprocity and goodwill.
The Elegance of Simplicity:
One of the defining features of SMS rewards programs is their simplicity. Customers do not need to hassle with downloading additional apps or carrying physical loyalty cards. With just a few keystrokes in a text message, they can enroll in the rewards program and start earning enticing rewards immediately.
Why SMS Marketing Reigns Supreme:
SMS marketing is a direct and personal communication channel. SMS rewards programs capitalize on this inherent strength. Text messages boast an astonishingly high open rate, with nearly 100% of messages being read within minutes of receipt. This directness and immediacy make SMS the ideal platform for delivering rewards notifications that pack a punch and foster customer loyalty.
How SMSGatewayCenter Benefits in your SMS Rewards Program:
To unlock the full potential of SMS rewards programs, you need a robust and versatile platform like SMSGatewayCenter. Our platform offers a comprehensive suite of features that simplify rewards program management.
User-Friendly Interface: With our intuitive interface, you can effortlessly set up, monitor, and manage your SMS rewards program.
Points Tracking: Keep a real-time tab on customer points, redemptions, and program performance.
Tailored Customization: Personalize your rewards program to align seamlessly with your brand identity and customer preferences.
Targeted Messaging: Send highly targeted and personalised SMS messages to specific customer segments, enhancing engagement and relevance.
Dependable Reliability: Rest assured, your rewards notifications will be delivered promptly, reliably, and securely.
Conclusion:
In today's dynamic and customer-centric business landscape, nurturing and sustaining customer loyalty is not just a strategic choice; it's an imperative. SMS rewards programs offer a simple yet highly effective means to achieve this. By harnessing the power of SMS marketing and partnering with SMSGatewayCenter, you can create and manage rewards programs that go beyond transactions to build lasting emotional connections with your customers.
Elevate your customer loyalty strategy to new heights. Choose SMSGatewayCenter for engaging and efficient SMS rewards programs.
Learn more about how SMSGatewayCenter can transform your loyalty initiatives. Contact us today.
Hashtags:
Permalink: smsgatewaycenter.com/blog/sms-rewards-program-loyalty-rewarded
---
Save this interesting page on your favorite Social Media
---