Hospitals, clinics, nursing homes and other healthcare facilities are always looking for ways to provide better service and care to patients without increasing costs. As a result of this search, many healthcare organizations have turned their attention to telemedicine. The use of telemedicine solutions has allowed healthcare providers to meet the needs of patients remotely in different locations. To further improve patient experience, some healthcare organizations have also started using text messaging as a tool within their telemedicine solutions. Read on to discover why text messaging is such a breakthrough in improving patient outcomes and reducing readmissions in hospitals.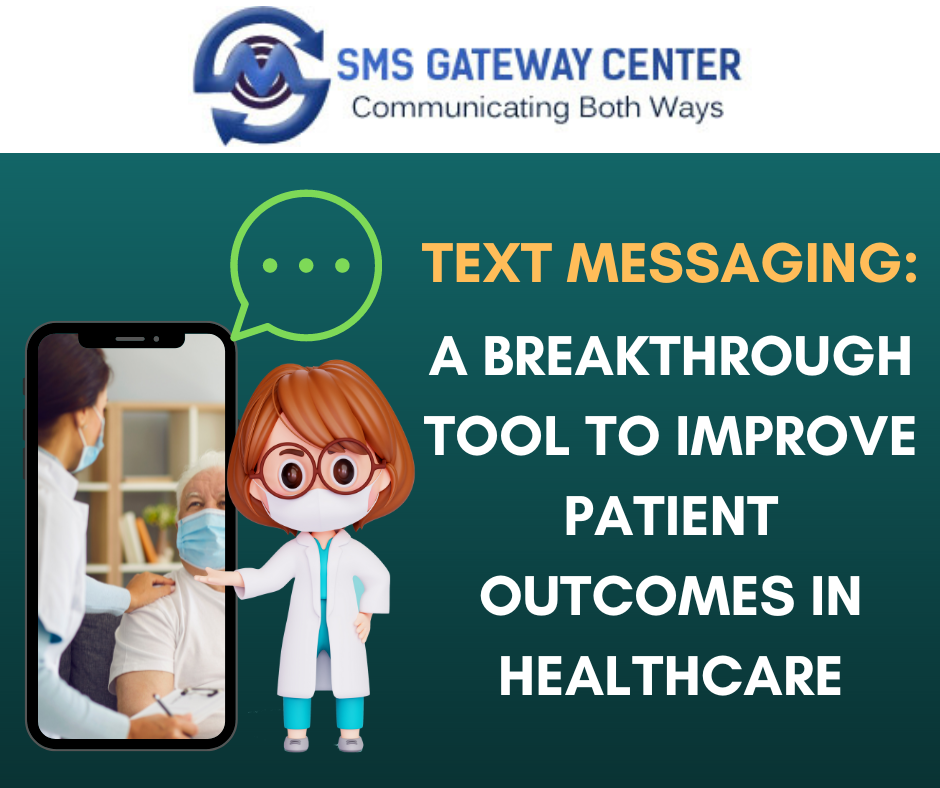 What is Text Messaging in Healthcare?
Text messaging is a powerful communication solution that allows people to stay in touch with one another quickly and easily. Organizations are finding that text messaging is a great addition to their communication strategies because it comes with low cost, high engagement, and high user satisfaction. Healthcare providers have begun to use the power of text messaging to communicate with patients. With the use of this tool, patients can keep track of their medication history, request appointments, and even communicate with their doctors. Text messaging can also be used to send test results, manage prescriptions, allow patients to communicate with their health care providers, and many other applications.
Benefits of Text Messaging for Healthcare
Improved communication
With the use of text messaging for healthcare, patients can now stay in touch with their doctors and other healthcare providers without having to make a trip to their office. This allows them to remain in their homes and avoid the inconvenience and cost of visiting their healthcare providers.
Reduced Readmissions
Providing patients with the ability to communicate with their healthcare providers via text messaging can help to reduce readmissions. Patients who can text their healthcare providers with questions or concerns can get quick and easy responses. This allows them to get the care they need without having to be admitted to the hospital.
Improved Patient Satisfaction
Texting with healthcare providers can increase patient satisfaction because there is no waiting on the phone. Patients can simply text their healthcare providers when they have questions or concerns. This allows them to get answers quickly and easily and without having to wait in long lines.
Patient-Driven Care
By providing patients with the ability to text their healthcare providers, healthcare providers are empowering patients to take control of their healthcare. Many patients want to be a part of the decision-making process but are unable to attend doctor appointments. With the use of text messaging, patients can communicate their needs and desires to their healthcare providers.
Lower Costs
Another benefit of using text messaging for healthcare is the ability to reduce costs. The cost of using text messaging is significantly lower than using other forms of communication, such as telephone calls. Using text messaging for healthcare can save healthcare providers money and help to keep costs down for patients.
How Text Messaging Helps Healthcare Providers
Streamlined Communication
Healthcare providers are always looking for ways to better communicate with patients. The use of text messaging can allow patients to contact their healthcare providers by texting with a special healthcare provider number. This type of communication is helpful because it allows healthcare providers to communicate with a high volume of patients quickly and easily.
Easy Access to Patient Information
The ability to communicate with patients via text messaging allows healthcare providers to view and update patient information. This can help to improve patient care and enhance the doctor-patient relationship. It can also help prevent incorrect information from being entered into a database and help to avoid miscommunication.
Efficient Communication
With the use of text messaging, healthcare providers can communicate efficiently with patients. This is especially helpful with patients who are non-verbal or unable to communicate in other ways. Texting allows these patients to communicate with their healthcare providers and receive the care they need.
Cost Savings
Using text messaging can help healthcare providers to save time and money. This is beneficial because time is money, and it is important to save both. Using text messaging can allow healthcare providers to spend less time on communication and more time on patient care. It can also help to reduce healthcare provider turnover and save money.
Conclusion
Text messaging is not just for texting friends and family anymore. Healthcare providers can use this type of communication to enhance their relationships with patients and provide better care. Patients can easily contact their healthcare providers with a simple text message and get answers quickly and easily. Text messaging is also beneficial for healthcare providers because it allows them to streamline communication with patients. It can also help to increase patient satisfaction, improve patient care, and reduce costs. Text messaging is an excellent communication tool that can be used in many ways when it comes to healthcare.
---
Save this interesting page on your favorite Social Media
---