In today's fast-paced digital era, businesses in the restaurant and catering industry are constantly seeking innovative ways to enhance customer experience and streamline their operations. One technology that has revolutionized communication and customer engagement is the WhatsApp Business API. With its widespread popularity and user-friendly interface, WhatsApp has become a powerful tool for restaurants and caterers to connect with their customers in a more personalized and efficient manner.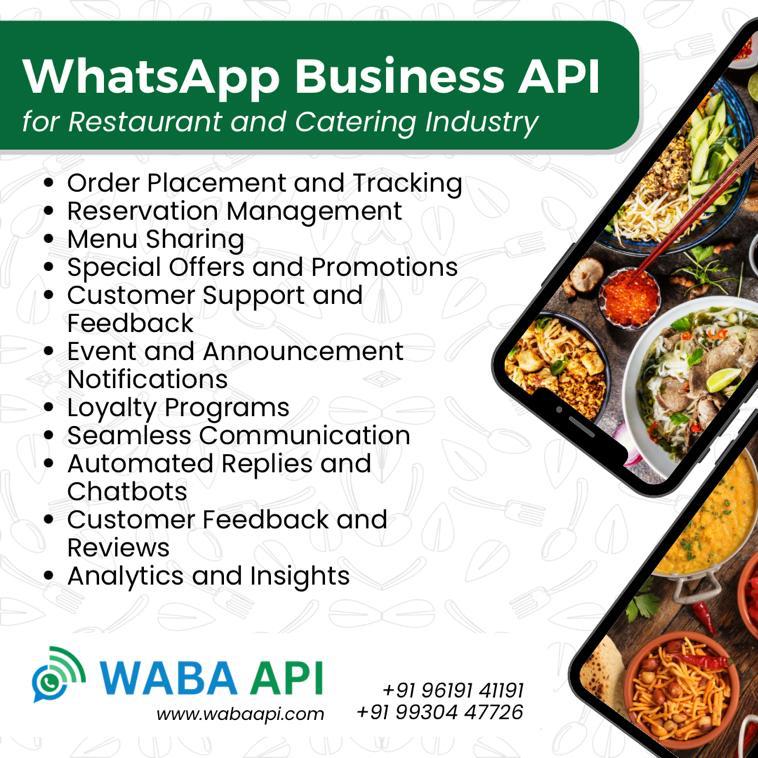 Here are some key features and benefits of using the WhatsApp Business API in the restaurant and catering industry:
Order Placement and Tracking
With the WhatsApp Business API, customers can conveniently place their orders directly through the messaging platform. They can browse the menu, select their desired items, and send their order to the restaurant or catering service. Moreover, the API allows for real-time order tracking, keeping customers informed about the status of their order and estimated delivery or pickup time.
Reservation Management
Restaurants can leverage the WhatsApp Business API to manage table reservations more effectively. Customers can simply send a message to inquire about table availability, make a reservation, or modify an existing reservation. This streamlines the reservation process and reduces the need for phone calls or emails, making it more convenient for both customers and restaurant staff.
Menu Sharing
WhatsApp Business API enables restaurants and caterers to share their menus directly with customers. This feature allows customers to view the available options, explore different dishes, and make informed decisions. By showcasing their menu through WhatsApp, businesses can entice customers with mouth-watering visuals and detailed descriptions.
Special Offers and Promotions
The WhatsApp Business API offers a great platform for restaurants and caterers to promote their special offers, discounts, and promotions. Businesses can send personalized messages to their customers, informing them about limited-time deals, seasonal menus, or exclusive discounts for loyal customers. This targeted approach helps generate excitement and encourages repeat business.
Customer Support and Feedback
WhatsApp Business API facilitates seamless communication between restaurants and their customers, allowing for quick and efficient customer support. Customers can inquire about menu items, request assistance, or provide feedback on their dining experience. The API also enables businesses to gather valuable feedback through surveys, helping them improve their services and meet customer expectations.
Event and Announcement Notifications
Restaurants and catering services often host special events, such as live music nights, theme parties, or chef's tasting menus. With the WhatsApp Business API, businesses can send event notifications and announcements directly to their customer base. This ensures that customers stay informed about upcoming events and can make reservations or purchase tickets in advance.
Loyalty Programs
The WhatsApp Business API offers opportunities for restaurants and caterers to implement loyalty programs to reward their frequent customers. Businesses can send exclusive offers, discounts, or personalized messages to their loyal patrons, making them feel valued and appreciated. This fosters customer loyalty and encourages repeat visits.
Seamless Communication
The WhatsApp Business API provides a seamless communication channel between restaurants and their customers. It allows for real-time, two-way communication, enabling businesses to address customer inquiries, resolve issues, and provide personalized recommendations. This direct and efficient communication builds trust and enhances the overall customer experience.
Automated Replies and Chatbots
The WhatsApp Business API supports automated replies and chatbots, which can handle common customer inquiries and provide instant responses. Restaurants and caterers can set up predefined messages or deploy chatbots to answer frequently asked questions, such as operating hours, location, or dietary restrictions. This automation saves time and ensures prompt customer service.
Customer Feedback and Reviews
With the WhatsApp Business API, restaurants and caterers can actively seek customer feedback and reviews. By sending personalized messages or surveys after a dining experience or catering service, businesses can gather valuable insights and testimonials. This feedback helps in identifying areas for improvement and provides an opportunity to showcase positive reviews and testimonials from satisfied customers.
Analytics and Insights
The WhatsApp Business API provides access to valuable analytics and insights. Businesses can track metrics such as message delivery rates, response times, and customer engagement. These insights help in evaluating the effectiveness of marketing campaigns, understanding customer preferences, and making data-driven decisions to improve overall performance.
Conclusion
In conclusion, the WhatsApp Business API has emerged as a game-changer for the restaurant and catering industry. Its powerful features and seamless communication capabilities enable businesses to enhance customer engagement, streamline operations, and drive growth. From order placement and tracking to personalized promotions and customer support, the WhatsApp Business API offers a comprehensive solution for businesses in this dynamic industry.
Restaurants and caterers that embrace this technology can benefit from increased customer satisfaction, improved efficiency, and a competitive edge in the market. By leveraging the WhatsApp Business API, businesses can create memorable dining experiences, foster customer loyalty, and ultimately drive their success.
So, if you're in the restaurant or catering industry, it's time to explore the possibilities of the WhatsApp Business API and revolutionize the way you connect with your customers. Embrace this technology, enhance your customer experience, and stay ahead of the competition.
Remember, the key to success lies in leveraging innovative solutions that meet the ever-evolving needs and expectations of your customers. The WhatsApp Business API is your ticket to transforming your restaurant or catering business into a customer-centric and digitally empowered enterprise.
To learn more about how the WhatsApp Business API can benefit your business, visit our website at https://www.smsgatewaycenter.com/whatsapp-business-api/.
---
Save this interesting page on your favorite Social Media
---