Have you ever found yourself in an SMS campaign on marketing and didn't know just the right time for the SMS campaign to get the greatest positive response out of it? Do you know that timing is important for any SMS campaign? Listed below are points for best results in any SMS Marketing campaign: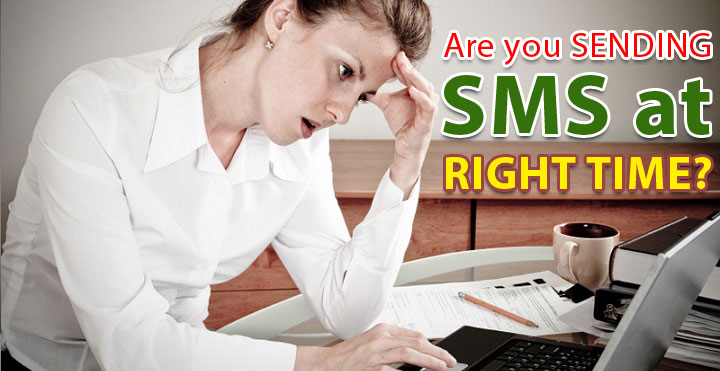 Since time is critical, think of a time you would be glad to receive the SMS if you were the target.  A time that encourages you (on the recipients' shoes) to continue subscribing to the SMS service.
Imagine if you were to receive an SMS alert on a golf club or social and recreational club just on a Friday evening, after work. Won't you feel great and maybe try to find out more information on the SMS campaign?
Monday evening would be most appropriate for business conference SMS campaign alerts. Still fresh from the weekend and starting the week with vigor, the first day of the week in the office with few challenges; a business conference would help overcome the challenges. An opportune time for SMS campaign!
Targeting students on academic papers? Sunday evening would do as it's at this time when they start thinking of academics again when they realize the weekend is over. An SMS campaign would definitely work!
Retail stores on furniture and home electronic equipments? Sunday afternoon would be the best time to conduct the SMS campaign, as most people are relaxed and free at this time.
Time between 10 am – noon would be appropriate for SMS alerts on fast foods and luncheon services because by then most minds think food!
Weekend afternoons would be appropriate for SMS alerts on kids toys and clothing as most of this time find parents with their kids and some free time.
8pm would be best for SMS campaigns on online retails and kitchen stuff. Most of the time finds family during supper, thus can discuss things over and make an order.
SMS campaign is important in marketing, but timing of the campaign alert is more important for effectiveness.
SMS Gateway Center provides the best SMS campaign services with targeted data in India, to order kindly contact us at https://www.smsgatewaycenter.com/contact/
---
Save this interesting page on your favorite Social Media
---