Communication is the key to effective customer relationships, and businesses are always looking for new methods to interact with their customers. Two-Way SMS Communication is one such strong instrument that has altered the communication environment. To empower businesses with a cutting-edge solution, SMS Gateway Center introduces the transformative concept of Two-Way SMS Communication. This technology not only allows businesses to successfully communicate their messaging, but it also allows customers to participate, respond, and interact in real time.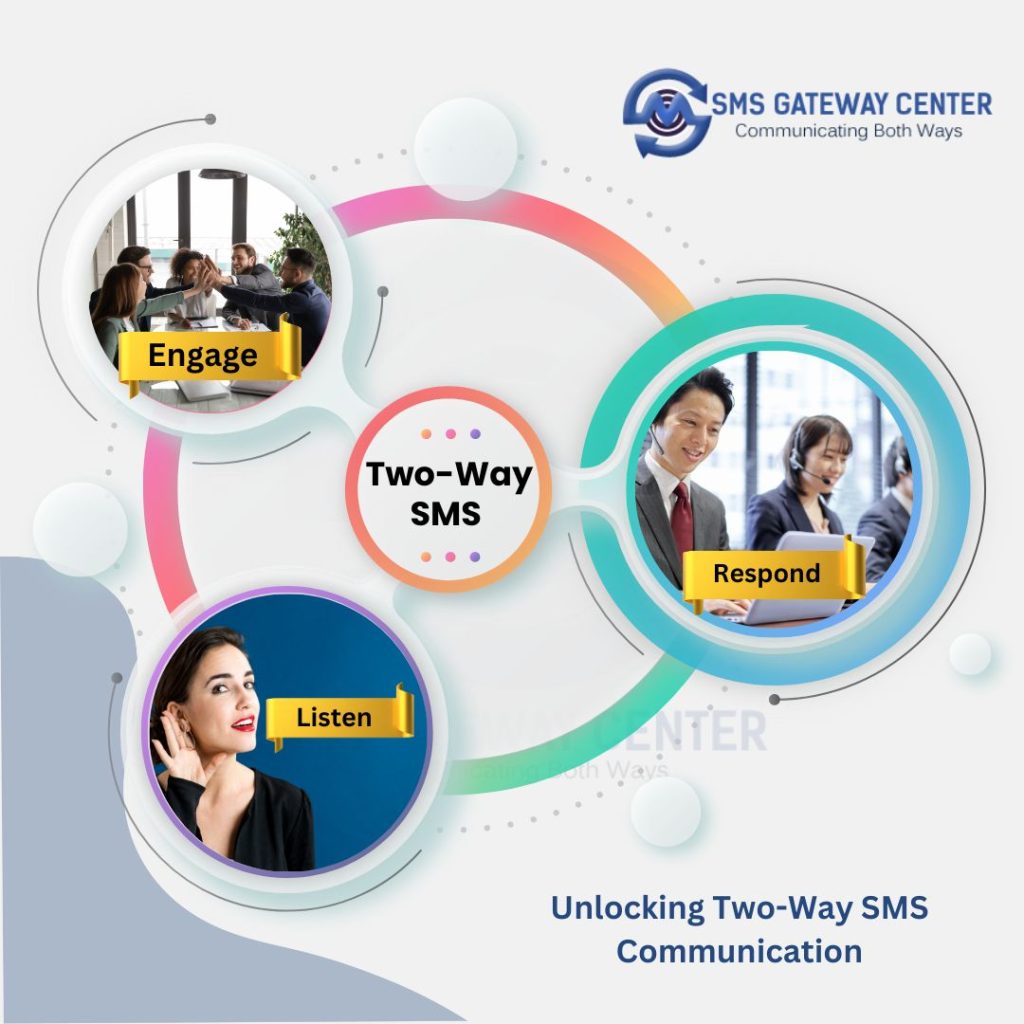 The Power of Interaction
Two-Way SMS Communication is a dynamic way to link businesses and their customers. It is not a one-sided debate; rather, it is a genuine exchange of ideas, views, and feedback. In contrast to traditional SMS campaigns, which deliver messages in only one direction, two-way SMS allows customers to respond. This interactive approach humanizes your business and encourages emotional attachment.
Engage: Personalized Conversations
Consider sending a message to your consumers about the arrival of a new product and inviting them to comment with their opinions, questions, or even pre-order requests. This level of personalisation and interaction is possible with two-way SMS. Customers feel more valued when they can actively participate in conversations, which increases their likelihood of remembering and appreciating your brand.
Listen: Real-Time Feedback
It is critical to listen to your clients in order to improve your offers. Two-way SMS communication is an extremely useful technique for getting real-time feedback. You can conduct surveys, polls, or solicit feedback on certain topics. This feedback loop not only improves your understanding of your clients, but it also shows that you actually care about their preferences.
Respond: Instant Customer Support
A customer-centric firm provides prompt and effective customer service. Customers can easily contact your support team over two-way SMS and obtain prompt assistance. Whether it's a product question, a troubleshooting request, or a service-related issue, being able to reply quickly can boost customer satisfaction and establish trust.
Versatility in Applications
Two-way SMS communication has nearly endless possibilities. Businesses can use it for appointment scheduling, order tracking, event registrations, and more in addition to marketing and support. It's a versatile solution that can be tailored to your individual business requirements, allowing you to optimize procedures and improve customer experience.
Implementation Made Easy
It is simple to incorporate two-way SMS communication into your business strategy. SMS Gateway Center provides an easy-to-use platform for creating, managing, and monitoring interactive SMS campaigns. You can assure a smooth and engaging customer experience with advanced features such as automatic responses, keyword triggers, and real-time reporting.
To summarize, Two-Way SMS Communication is more than simply a message tool; it serves as a catalyst for meaningful relationships. Businesses may establish closer connections, acquire useful data, and provide great customer service by embracing this technology. Two-way SMS is leading the way in generating engaging conversations that create engagement and loyalty in an era where one-way communication is developing.
Engage, listen, and respond — with Two-Way SMS Communication, you're not just exchanging messages; you're establishing long-lasting relationships.
---
Save this interesting page on your favorite Social Media
---