One of the most important criteria is to deliver SMS instantly to the recipients. Let it be a customer buys online and your platform instantly informs the client about his purchase status. This gives the satisfaction to any client about his money being spent on your platform, hence delivering SMS messages becomes the most important criterion.
SMS Delivery Analysis
At SMS Gateway Center, having multiple operator gateway provide comprehensive latency report to understand and help you plan your campaigns better. Below is the screenshot where one of our customers has 81% delivery within 5 seconds out of his 210,000 SMS sent report. So your 81% of customers are instantly notified about your transactional SMS alert. And nearly an additional 5% of customers are delivered within 30 seconds.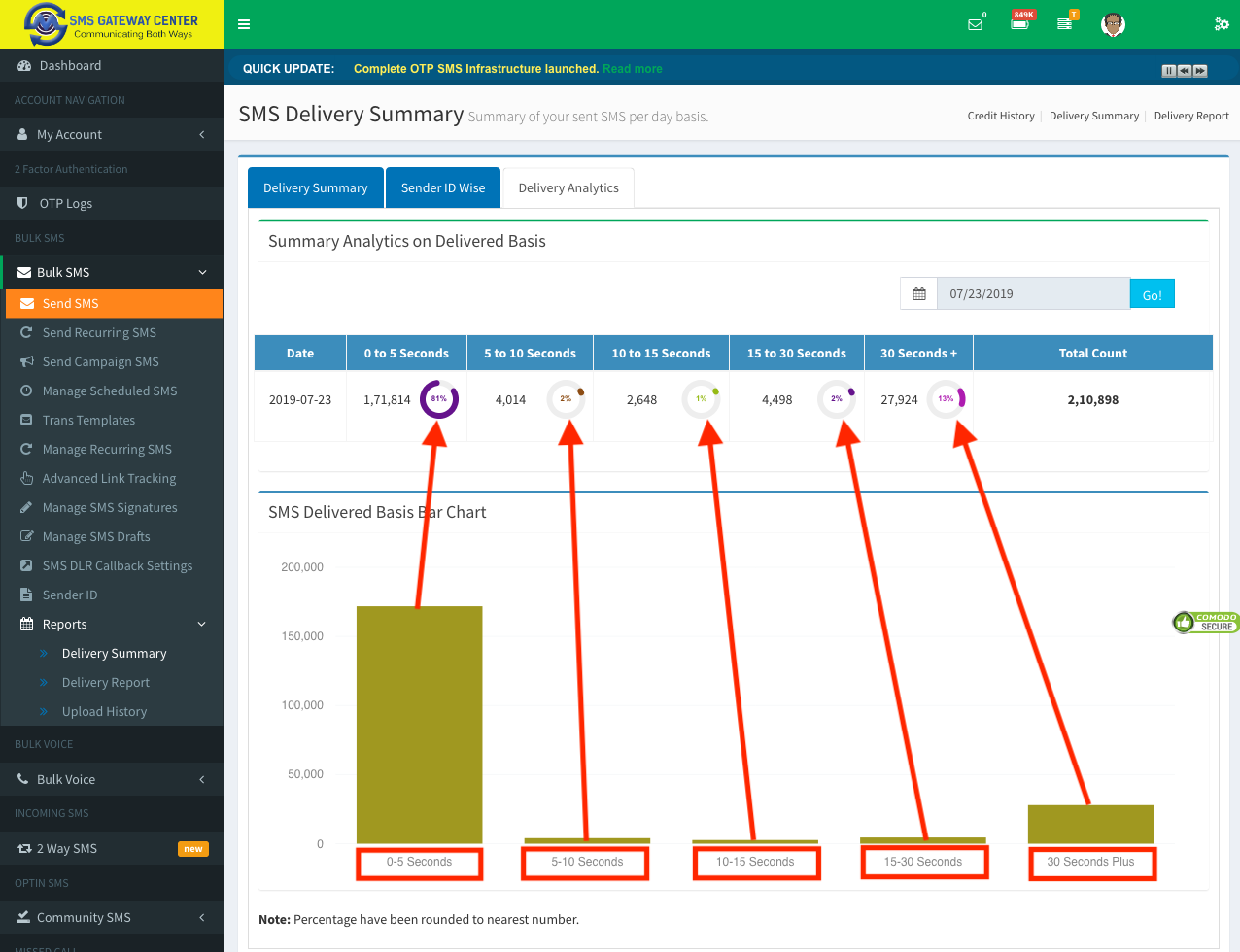 Viewing your Personal SMS Delivery Analysis
You could download this report from your SMS account. Login to your account, go to Sidebar Menu -> Bulk SMS -> Reports -> Delivery Summary. On the page, Click on Delivery Analysis Tab as shown in the screenshot. You could understand your SMS delivery analysis on a day to day basis.
You could find the Total Number of SMS delivered as per time slots such as:
0 – 5 seconds.
5 – 10 seconds.
10 – 15 seconds.
15 – 30 seconds.
30 seconds plus.
We also give you the percentage based on your total cost of delivered SMS.
Causes for Latency more than 30 Seconds
Sometimes the latency of more than 30 seconds shows up for various reasons as per operator DLR response submission to the aggregators.
Handset delivery confirmation received late by the operator though the SMS could have delivered within 30 seconds or so.
Sometimes some handsets take more time to acknowledge  the reception of the message than others.
Recipients could be out of coverage area.
Usefulness
Not everyone should use these metrics as this is most useful for Transactional SMS clients and OTP SMS clients. Promotional SMS customers should always look for the return if they are conducting a huge campaign.
SMS Gateway Center is fair and transparent to give this useful statistics to all our clients. No hidden or manipulated stats. We wish all our customers use this feature and get back to our support team if there is a scope of improvement and we will gladly help you with your endeavors.
If you are still not using SMS Gateway Center platform for your SMS needs then you are missing great features provided exclusively on our platform. Sign up and get free SMS credits to test our platform.
---
Save this interesting page on your favorite Social Media
---