WhatsApp Business API has emerged as a powerful platform for businesses to engage with their customers, providing a direct and convenient means of communication. However, as with any tool, the WhatsApp Business API comes with its own set of rules and guidelines. Failure to adhere to these standards can lead to a ban, which can be detrimental to a business's reputation and operations.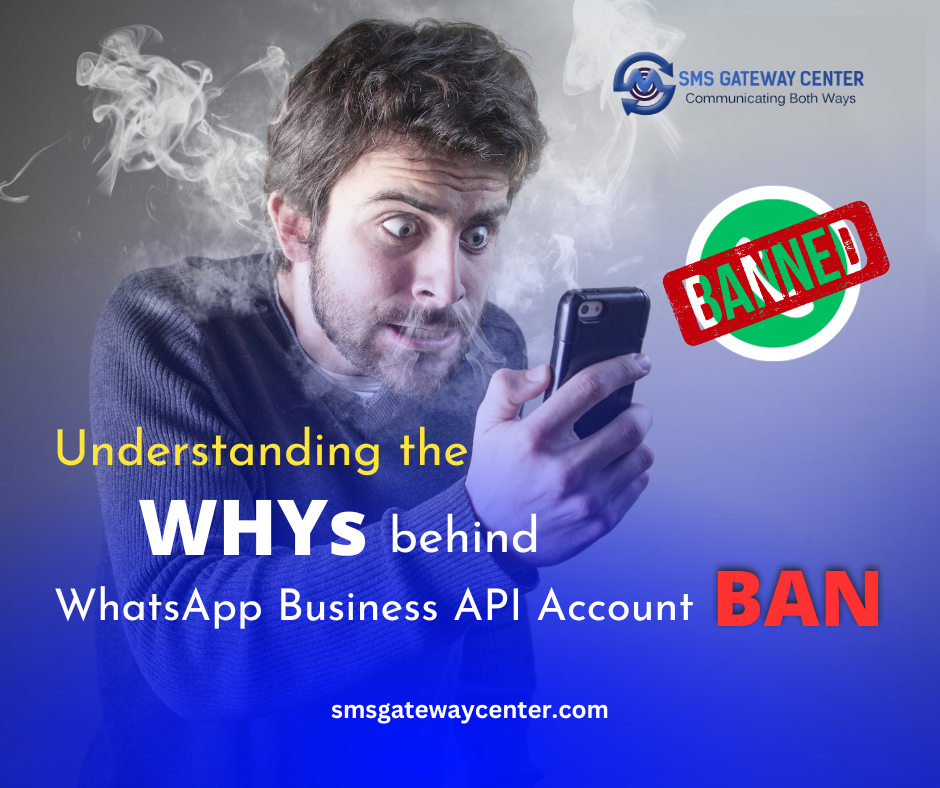 At SMS Gateway Center, we've recently come across a considerable number of new clients who have faced the unfortunate situation of their prior WhatsApp Business account (from their previous Service Provider) being banned. However, they are unsure about the reasons behind this ban.
The WHYs
WhatsApp Business API can be banned for various reasons, typically due to breaches of WhatsApp's policies and guidelines. Here are some prevalent factors that can lead to an account ban on WhatsApp Business.
Spam and Unsolicited Messages: Sending unwanted messages or sending a very high volume of messages in a short span to users can have serious consequences. Such actions can lead to the suspension or ban of your account on WhatsApp Business, as they disrupt user experience and violate WhatsApp's policies.
Using Unapproved Templates: Utilizing message templates that haven't been approved by WhatsApp or even misusing approved templates can result in the banning of your WhatsApp Business account. WhatsApp maintains strict template approval processes to ensure proper messaging practices.
Inappropriate Content: Sending messages containing inappropriate or offensive content can result in a ban. WhatsApp upholds a commitment to maintain a safe and respectful communication environment.
Misuse of Multimedia: Although rich multimedia is a valuable feature of the WhatsApp Business API, overloading users with an excessive number of images, videos, or audio messages without their consent can result in a ban.
Using Unauthorized Numbers: WhatsApp emphasizes the importance of using authorized and verified numbers to maintain secure and compliant messaging practices. The use of unapproved or unverified phone numbers to send messages through the WhatsApp Business Account can lead to an account ban.
Fraudulent Activity: Participating in deceptive or fraudulent activities, such as impersonation or phishing, has the potential to result in a ban from the WhatsApp Business API Account. Such actions not only violate WhatsApp's policies but also compromise user trust and security, prompting strict consequences to maintain platform integrity.
Violating User Privacy: Breaching user privacy by accessing or using personal data without consent can result in an account ban. WhatsApp places a high premium on safeguarding user data and expects businesses to adhere to strict privacy guidelines.
High Block Rate: A high rate of users blocking or reporting your messages is a clear indication of unwelcome communication. To maintain a positive user experience and uphold WhatsApp's standards, such actions may lead to a ban from the WhatsApp Business API. It's crucial for businesses to engage with users respectfully and within WhatsApp's guidelines to avoid this outcome.
Repeated Violations: Repeatedly violating WhatsApp's policies after warnings or previous bans can result in a permanent ban.
Use of Bots or Automation: Using bots or automation in a manner that breaches WhatsApp's guidelines may result in a ban from the WhatsApp Business API. Complying with WhatsApp's policies and guidelines is essential to avoid penalties and maintain a favourable standing on the platform.
Overuse of Keywords: Excessive use of specific keywords in messages can trigger suspicion of spam, potentially leading to a ban on the WhatsApp Business API. It's important to use keywords judiciously and responsibly to maintain compliance with WhatsApp's policies.
Repeated Violations: Repeated violations on WhatsApp, where a business continuously breaches the platform's policies despite prior warnings, can lead to significant consequences, potentially resulting in permanent bans. WhatsApp typically issues warnings to provide an opportunity for rectification and education, but ongoing non-compliance may prompt stricter actions to maintain the integrity of the platform.
Exceeding Fair Usage Limits: Exceeding the fair usage limits for messaging, which are the predefined thresholds set by WhatsApp, can result in penalties or bans. WhatsApp establishes these limits to ensure equitable and responsible use of the platform and to prevent misuse or overloading of resources.
Previous Bans: A history of previous bans or violations on WhatsApp can heighten the risk of future bans. WhatsApp monitors compliance closely, and businesses with a track record of non-compliance may face more severe consequences, including permanent bans, as it indicates a persistent disregard for the platform's rules and guidelines.
Misuse of API Capabilities: Misusing the WhatsApp Business API capabilities or features in a way that violates the platform's rules can result in a ban. Adhering to WhatsApp's guidelines is essential for maintaining a positive presence on the platform.
Conclusion
Understanding and adhering to the policies and guidelines governing the WhatsApp Business API are of paramount importance for businesses. The numerous valid reasons for potential bans that highlights the requirement for responsible and ethical communication practices. By respecting user privacy, obtaining consent, and operating within defined boundaries, businesses can optimize the full potential of the WhatsApp Business API while fostering trust and lasting relationships with their audience.
At SMS Gateway Center, we wholeheartedly adhere to WhatsApp's rules and guidelines, and we make it our priority to ensure that our clients are well-informed about these regulations. Our aim is to empower our clients to fully leverage the WhatsApp Business platform, where each interaction with their customers and clients transforms into a success story of growth.
---
Save this interesting page on your favorite Social Media
---