The WhatsApp Business API is a powerful tool for businesses looking to engage with customers and drive growth. With over 2 billion active users worldwide, WhatsApp is a popular messaging app that offers businesses the opportunity to connect with customers in a more personal and engaging way. In this article, we'll explore how businesses can effectively use the WhatsApp Business API to improve customer engagement and drive growth.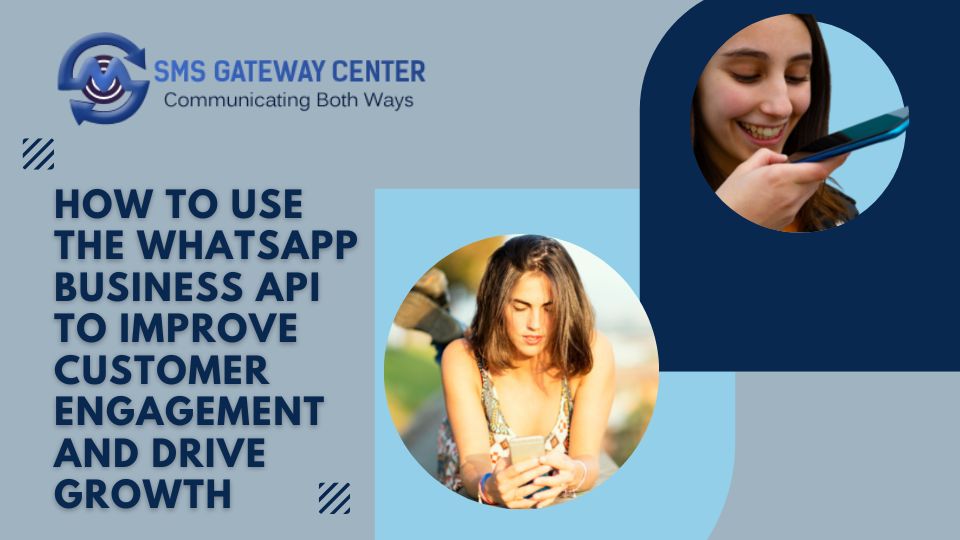 Enable Two-Way Communication
One of the key benefits of the WhatsApp Business API is the ability to enable two-way communication between businesses and customers. This means that customers can send messages to businesses and businesses can respond in a timely manner. Enabling two-way communication can help businesses build stronger relationships with customers by providing a more personalized experience.
To enable two-way communication, businesses can use chatbots to handle customer inquiries and automate responses. Chatbots can be programmed to respond to common customer questions and provide helpful information. Additionally, chatbots can be used to collect customer feedback and provide personalized recommendations based on customer behavior.
Use Rich Media
Another advantage of the WhatsApp Business API is the ability to use rich media such as images, videos, and audio messages. Rich media can help businesses create more engaging and visually appealing messaging campaigns. For example, businesses can use images to showcase their products or use videos to provide tutorials on how to use their products.
To use rich media effectively, businesses should ensure that their media is optimized for mobile devices. This means using high-quality images and videos that load quickly and are easy to view on a small screen.
Personalize Messaging
Personalization is key to creating a more engaging customer experience. By using customer data such as purchase history, browsing behavior, and location, businesses can create personalized messaging campaigns that are tailored to the individual customer.
For example, a business could send a personalized message to a customer who has abandoned their cart on their website, reminding them of the products they left behind and offering a discount code to incentivize them to complete their purchase.
Send Targeted Messages
Sending targeted messages to specific customer segments can help businesses improve the effectiveness of their messaging campaigns. By using customer data such as demographic information and purchase behavior, businesses can create targeted messaging campaigns that are more relevant to the recipient.
For example, a business could send a targeted message to customers who have purchased a specific product, offering a complementary product or service that is relevant to their interests.
Use WhatsApp Business API Analytics
To measure the effectiveness of messaging campaigns, businesses should use WhatsApp Business API analytics. WhatsApp Business API analytics provide valuable insights into message delivery rate, open rate, response rate, and conversion rate.
By analyzing these metrics, businesses can gain a better understanding of the effectiveness of their messaging campaigns and make data-driven decisions to optimize their messaging strategies.
Ensure Messaging Compliance
WhatsApp has strict guidelines for messaging compliance to protect customer privacy and prevent spam. Businesses should ensure that their messaging campaigns comply with these guidelines to avoid penalties or account suspension.
To ensure messaging compliance, businesses should use pre-approved message templates for common types of customer communication such as appointment reminders and shipping updates. Additionally, businesses should provide customers with the option to opt-out of messaging campaigns and should only send messages to customers who have provided their consent.
Provide Excellent Customer Service
Finally, businesses should prioritize excellent customer service when using the WhatsApp Business API. By responding promptly to customer inquiries and resolving issues quickly, businesses can build trust and loyalty with customers.
To provide excellent customer service, businesses can use chatbots to handle customer inquiries and provide 24/7 support. Additionally, businesses should ensure that their messaging campaigns include clear instructions.
---
Save this interesting page on your favorite Social Media
---