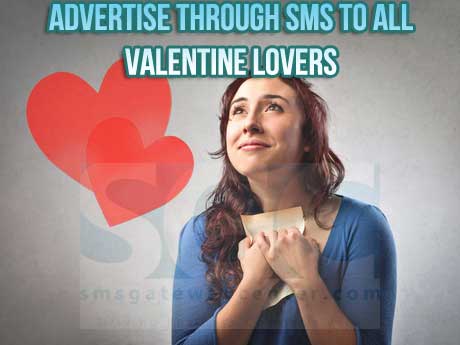 Come February, it's time for falling and rising in Love all over again. The best month, known for its Valentine's Day celebration, is right just around the corner. Truly said love is already in the air. That's the reason many consumers are looking out for unique ways to impress their loved and dear ones. To make this possible, many businesses, and marketers are grabbing this huge potential to increase their sales and acquire new customers. By offering special discounts and gift vouchers, these marketers are encouraging customers to purchase gifts and services for their friends and loved ones on this special occasion of Valentine's Day.
For doing this, SMS marketing seems to be the best option to capture emotional marketing to inspire love birds on this special day. Though there are various mediums to communicate feelings of love, still SMS Marketing has the charm for attracting large customer database for its easily accessibility and usage facility.  It is no surprise that top brands, mobile marketers and retailers are finding out newer ways to promote their products and services related to Valentine's Day via SMS services. Considered to be highly effective while engaging with loyal existing customers, SMS marketing also offers an excellent platform for generating leads during this love season. No wonder, Valentine SMS promotion always holds a special stature while communicating with esteemed customers all over the world.
It is a known fact that Valentine's Day is all about love, gifting and sharing with the special ones, SMS marketing offers and sweepstakes are the way to go. SMS marketers and retailers target this day to both male and female folk buyers. The target audience changes during this love season, wherein retailers woo the other party to buy gifts for their special ones. Here are few Valentine SMS promotional examples that would work like a magical charm for the loved ones:
Participate and win yourself a candlelight dinner for two on the eve of Valentine's Day!
Send out best loved messages and get Lucky on Valentine's Day!
Special Valentine Offer! Enjoy a free bottle of Champagne in your hotel suite.
Love is in the air! Gift your loved ones with elite designer outfits at a discounted price.
Hurry to participate and win diamond jewellery for your Valentine!
SMS to send the bunch of red roses to your loved one!
Studies have revealed that promoting brands using texting services have always worked well for Valentine's Day occasion. We do often notice big brands and companies running special contests and promotional drives to promote their brands using Valentine SMS services. Offering best of sign up process, rewarding customers for subscribing deals, announcing discounts on selective brands and gifting items, informing lucrative jewellery offer rates are some of the SMS programs retailers can opt to gather the most business during this season. Sending out last minute deals and offer alert messages to a target audience can help retailers to maximize sales. Texting seems to be the quickest and most direct forms to communicating personalized messages. One can also plan a sequel of Valentine SMS in order to grab the customer's attention for the brand promotion and services.
No wonder, Valentine SMS marketing plays a vital role in promoting consumer's emotions and exchanging one's feelings for loved ones from anywhere in the world.
Here's wishing you all the loved readers a very Happy Valentine's Day!
Get a special consideration for valentine occasion to use our SMS marketing services to all the lovers,  Contact SMSGatewayCenter.com
---
Save this interesting page on your favorite Social Media
---