In the fast-paced world of entertainment, connecting with fans and delivering memorable experiences is essential for success. With the rise of messaging apps, businesses in the entertainment industry are turning to the WhatsApp Business API to engage with their audience in a more personal and interactive way. In this article, we will explore the key benefits and features of using WhatsApp Business API for the entertainment industry and how it can elevate fan engagement and overall customer experience.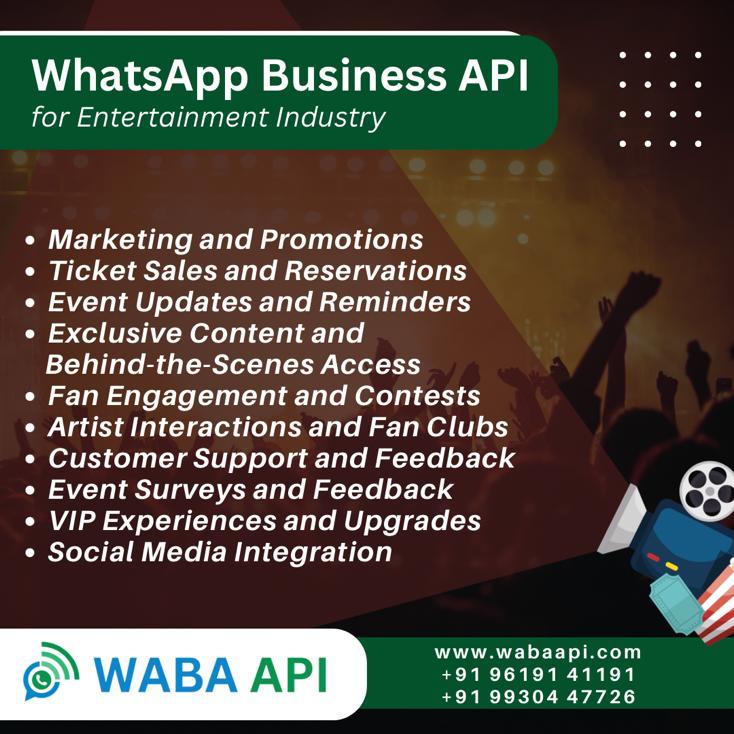 Marketing and Promotions
One of the primary uses of WhatsApp Business API in the entertainment industry is for marketing and promotions. It allows businesses to reach their fan base directly, sending out updates, announcements, and exclusive offers. Through the API, entertainment businesses can leverage the power of instant messaging to create a sense of excitement and anticipation around upcoming events, releases, or special promotions.
Ticket Sales and Reservations
WhatsApp Business API simplifies the ticketing process by allowing fans to purchase tickets or make reservations directly through the messaging app. This seamless integration provides convenience and ease of access for fans, eliminating the need for multiple platforms or websites. Whether it's for a concert, theater performance, or any other entertainment event, fans can secure their seats with just a few taps on their smartphones.
Event Updates and Reminders
Keeping fans informed and engaged is crucial for the success of any entertainment event. WhatsApp Business API enables businesses to send real-time event updates and reminders directly to fans' mobile devices. This ensures that fans are aware of important information such as event schedules, venue changes, or last-minute announcements. By providing timely and relevant updates, businesses can enhance the overall event experience and minimize any potential confusion or inconvenience for attendees.
Exclusive Content and Behind-the-Scenes Access
WhatsApp Business API offers a unique opportunity to provide fans with exclusive content and behind-the-scenes access. Businesses in the entertainment industry can share exclusive photos, videos, interviews, or sneak peeks to create a sense of exclusivity and make fans feel like insiders. This not only increases fan engagement but also builds a loyal and dedicated fan base that feels connected to the brand on a deeper level.
Fan Engagement and Contests
With the WhatsApp Business API, entertainment businesses can run engaging contests and interactive campaigns to involve fans in the creative process. Whether it's a fan art contest, a trivia challenge, or a voting poll, WhatsApp allows for direct and real-time communication, making fans feel actively involved in the decision-making process. This level of engagement fosters a sense of community and strengthens the bond between fans and the entertainment brand.
Artist Interactions and Fan Clubs
WhatsApp Business API provides a platform for direct communication between artists and their fans. Artists can interact with their fan base through personalized messages, Q&A sessions, or even exclusive virtual meetups. This direct line of communication creates a unique and intimate connection between artists and fans, fostering a stronger fan loyalty and a dedicated following. Additionally, entertainment businesses can create fan clubs or exclusive groups where fans can interact with each other and share their enthusiasm for the artist or event.
Customer Support and Feedback
WhatsApp Business API is an effective channel for providing customer support and addressing fan inquiries. Fans can reach out to businesses directly through the messaging app, seeking assistance, clarifications, or sharing feedback. This immediate and direct communication helps businesses resolve issues promptly and ensure a positive customer experience. It also provides valuable insights and feedback that businesses can utilize to improve their services and offerings.
Event Surveys and Feedback
Collecting feedback from fans is crucial for continuous improvement. WhatsApp Business API enables businesses to send surveys or feedback forms to attendees after an event. This allows fans to share their opinions, suggestions, or any concerns they might have. By actively listening to their audience, entertainment businesses can better understand their fans' preferences and expectations, leading to more tailored and customized experiences in future events.
VIP Experiences and Upgrades
WhatsApp Business API allows entertainment businesses to offer exclusive VIP experiences and upgrades to their most loyal fans. Through personalized messages, businesses can provide VIP perks such as backstage passes, meet-and-greets, or early access to tickets. This not only creates a sense of exclusivity but also strengthens the bond between the fan and the entertainment brand, fostering long-term loyalty and advocacy.
Social Media Integration
Integrating WhatsApp Business API with social media platforms amplifies the reach and impact of marketing efforts in the entertainment industry. By leveraging the power of social media, businesses can cross-promote their WhatsApp presence, driving more fans to engage through the messaging app. This integration allows for seamless sharing of content, event updates, and promotions, maximizing the visibility and engagement of the entertainment brand across various channels.
Conclusion
In conclusion, the WhatsApp Business API has emerged as a valuable tool for the entertainment industry, revolutionizing the way businesses engage with their fans. From marketing and promotions to personalized communication, event management, and customer support, the API offers a wide range of features that can enhance fan engagement, foster loyalty, and deliver exceptional experiences. By leveraging the power of instant messaging, entertainment businesses can create a more intimate and interactive relationship with their fans, ultimately driving success in a highly competitive industry.
As the entertainment landscape continues to evolve, embracing innovative technologies like the WhatsApp Business API becomes increasingly important for businesses to stay relevant and connected with their audience. By utilizing this powerful platform, entertainment businesses can elevate their marketing strategies, streamline operations, and deliver unforgettable experiences that keep fans coming back for more.
So, whether it's a concert, theater performance, sporting event, or any other form of entertainment, integrating the WhatsApp Business API can unlock new possibilities and create a deeper connection between the entertainment industry and its fans. Embrace this digital transformation and embark on a journey to enhance fan engagement, drive growth, and make a lasting impact in the world of entertainment.
Remember, it's not just about delivering entertainment; it's about creating experiences that leave a lasting impression on your fans and build a loyal and dedicated following. WhatsApp Business API can be your gateway to achieving just that.
In the age of instant communication, staying connected with fans and providing exceptional customer experiences is crucial for success in the entertainment industry. The WhatsApp Business API is your key to unlocking the full potential of fan engagement and taking your entertainment business to new heights.
So, why wait? Embrace the power of WhatsApp Business API for the entertainment industry and embark on a journey of fan-centric experiences, unforgettable moments, and long-term success. Your fans are waiting, so let's start engaging with them on a whole new level with the WhatsApp Business API.
Now is the time to revolutionize the way you connect, interact, and engage with your fans. Embrace the WhatsApp Business API and make your mark in the world of entertainment like never before. The stage is set, the audience is waiting, and the possibilities are endless. It's time to take your entertainment business to the next level with the WhatsApp Business API.
For more information on how to integrate WhatsApp Business API into your entertainment business, visit our website at https://www.wabaapi.com. Together, let's create unforgettable experiences and make a lasting impact in the world of entertainment.
---
Save this interesting page on your favorite Social Media
---