In the fast-paced world of event management, effective communication and streamlined operations are paramount to success. As event organizers strive to create memorable experiences and connect with attendees, leveraging innovative technologies becomes essential. One such technology that has revolutionized the event management landscape is the WhatsApp Business API.
The WhatsApp Business API provides event organizers with a powerful tool to engage with attendees, promote events, facilitate registration and ticketing, provide real-time support, and enhance the overall event experience. With over 2 billion active users worldwide, WhatsApp offers a familiar and convenient platform for communication, making it an ideal choice for event management.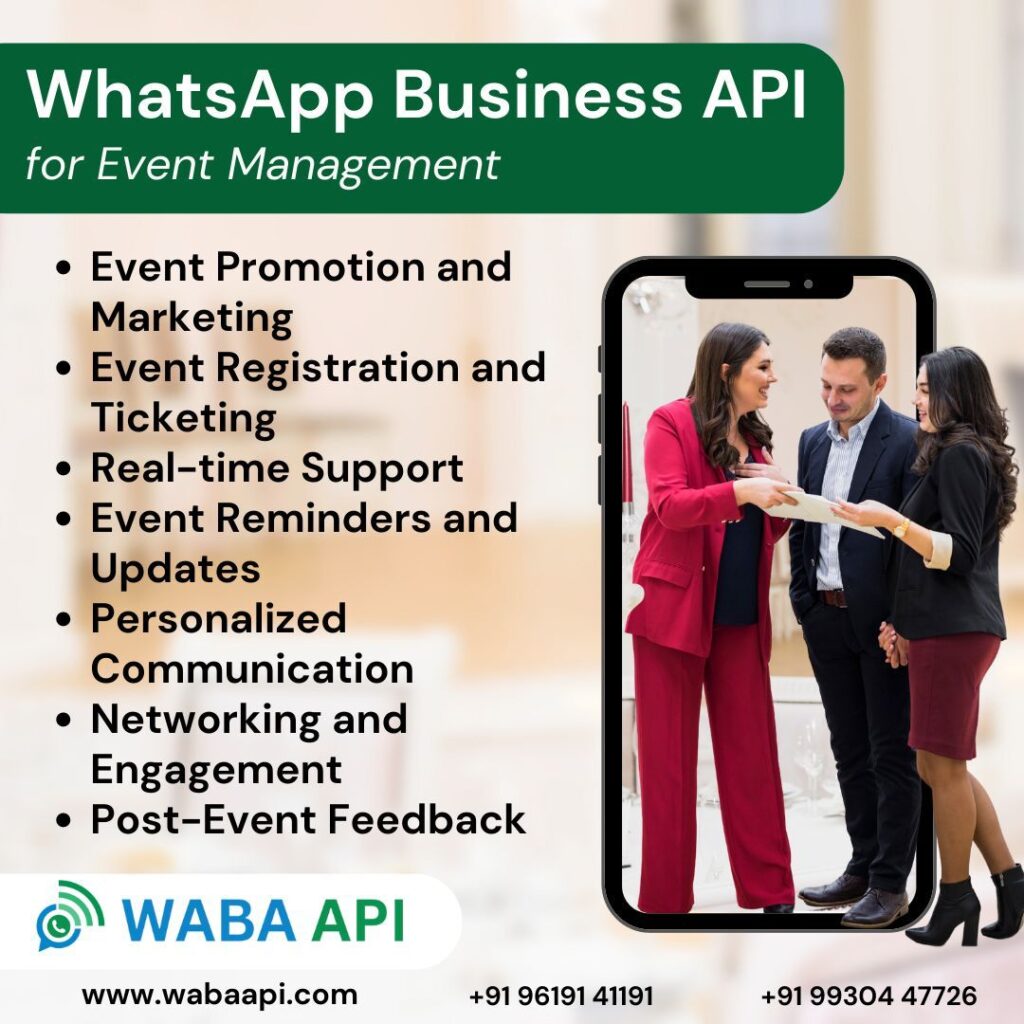 Event Promotion and Marketing
One of the key benefits of the WhatsApp Business API for event management is its ability to facilitate event promotion and marketing. Event organizers can leverage the platform to reach a large audience and create buzz around their events. By sending personalized messages, sharing event details, and offering exclusive promotions, organizers can attract and engage potential attendees, driving event awareness and registration.
Event Registration and Ticketing
Managing event registration and ticketing becomes seamless with the WhatsApp Business API. Organizers can provide a hassle-free registration process by enabling attendees to register directly through WhatsApp. Additionally, ticketing information, including e-tickets and QR codes, can be conveniently shared with attendees, ensuring a smooth check-in process on the day of the event.
Real-time Support
The WhatsApp Business API enables event organizers to provide real-time support to attendees. Whether it's addressing queries, providing event-related information, or resolving issues, organizers can establish a direct line of communication with attendees, enhancing customer satisfaction and improving the overall event experience.
Event Reminders and Updates
Keeping attendees informed and engaged is crucial for the success of any event. With the WhatsApp Business API, organizers can send timely event reminders, updates, and important announcements directly to attendees' WhatsApp accounts. This ensures that attendees stay informed about schedule changes, speaker updates, special offers, and other relevant information.
Personalized Communication
The WhatsApp Business API allows event organizers to deliver personalized communication to attendees. By segmenting their audience based on preferences, interests, or demographics, organizers can tailor messages and offers to specific groups, creating a more personalized and engaging experience for attendees.
Networking and Engagement
Events provide valuable networking opportunities, and the WhatsApp Business API can facilitate networking and engagement among attendees. Organizers can create dedicated groups or chatbots to connect attendees with similar interests, encourage interaction, and foster meaningful connections before, during, and after the event.
Post-Event Feedback
Gathering feedback from attendees is essential for event organizers to improve future events. With the WhatsApp Business API, organizers can easily collect post-event feedback by sending surveys or questionnaires directly to attendees. This valuable feedback helps organizers understand attendees' experiences, identify areas for improvement, and tailor future events to better meet attendees' expectations.
Conclusion
In conclusion, the WhatsApp Business API offers a wide range of benefits for event management, including event promotion and marketing, event registration and ticketing, real-time support, event reminders and updates, personalized communication, networking and engagement, and post-event feedback. By leveraging this powerful tool, event organizers can enhance attendee experience, drive event awareness, streamline operations, and ultimately create unforgettable events.
To explore the possibilities of the WhatsApp Business API for event management, consider partnering with WabaAPI.com. With their expertise and experience in utilizing the WhatsApp Business API, they can assist you in implementing and optimizing this powerful tool to elevate your event management strategies.
---
Save this interesting page on your favorite Social Media
---