After receiving tremendous positive response on our website and keeping in mind the interest of our valuable resellers and customers, SMSGatewayCenter.com is rolling out its NEW WEB SMS PANEL WITH MOBILE FRIENDLY FEATURES.

Now, you can access our web SMS panel on any phone with more compatibility than ever before. Our new mobile friendly features are designed for more visibility and loading time is faster, with simplified navigation and being thumb friendly, it allows you to visit our website fast and quickly.

We have made loads of changes in terms of UI, added new features and optimized for enhanced and faster performance. In the coming days, we will be including more features which we will keep you posted.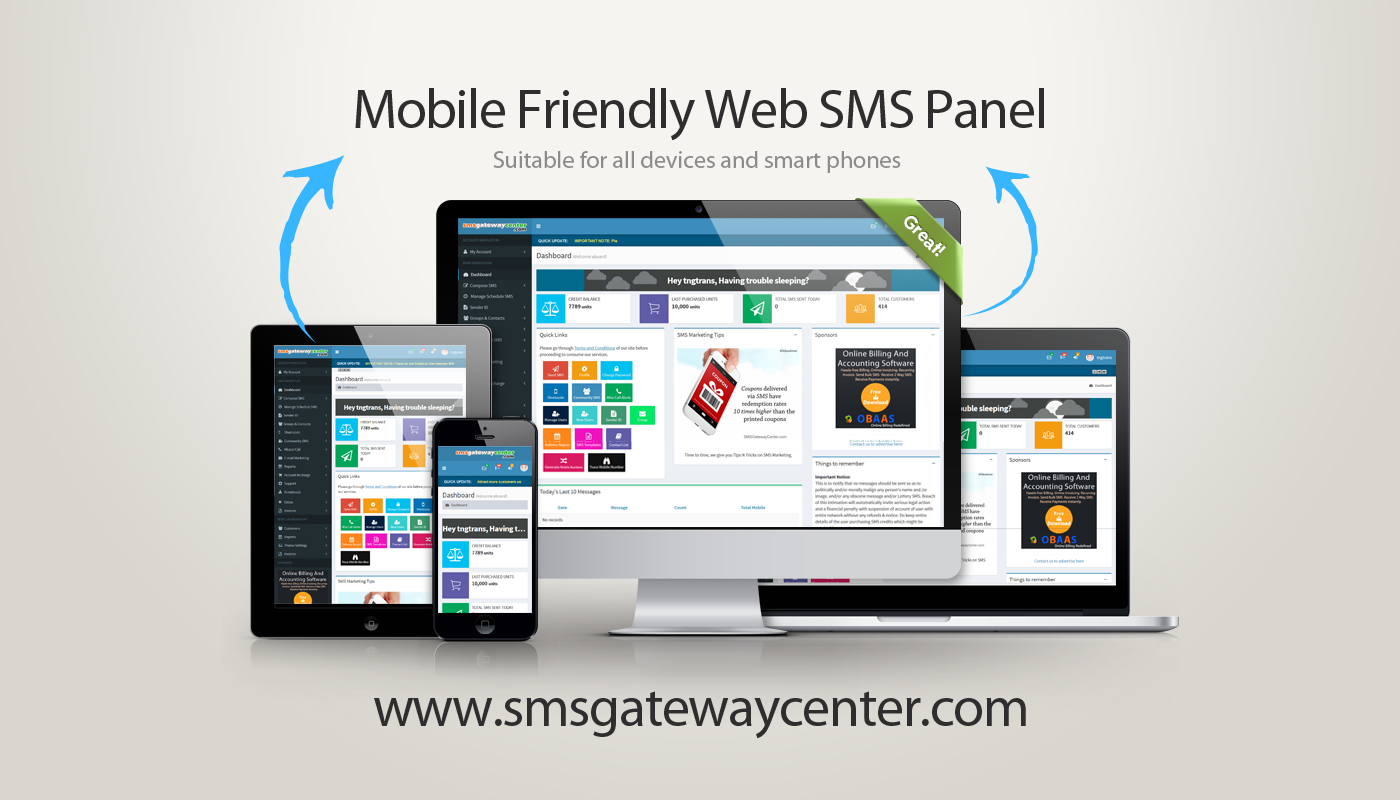 Get a glance here (screenshot) https://www.smsgatewaycenter.com/images/news/dashboard_new_sgc.png

WEB SMS PANEL WILL BE LAUNCHED BY 3RD OF APRIL 2016 AND YOU WILL BE INFORMED AGAIN FOR THE SAME.

Some of the features and changes in the version 3.2.0 is as follow:
Complete UI changed and its now mobile friendly compatible to the most of the smart phones and tablets.
Fixed many bugs.
Added Signature option to happen while sending SMS.
User can upload profile photo to get displayed on navigation's.
Added activity tab on profile page which directly gets updated by your Accounts Manager and an email will be sent as an alert to the user.
Added new dashboard.
Advertising options: Now you can advertise your product / services to across all our 20k small businesses and corporate.
Added to edit group list.
Added to edit contact list.
Added User Activity tab, so that dedicated managers can update special activities.
Side Menu Navigation eased for resellers and customers.
Select different contacts from Group to send SMS to only selected contacts.

In the event of any bugs you may find on our new web SMS panel, please report to us without any hesitation, hopefully with the screenshot. We will be glad to serve you.

We wish you the best and look forward to your favorable consideration on this matter.


Try a demo
---
Save this interesting page on your Favourite Social Media
---