WhatsApp Business API is a valuable platform for businesses to connect with their customers. However, sometimes accounts can get banned due to policy violations or other reasons. If your WhatsApp Business account has been banned and you believe it was done in error or wish to resolve the issue, you can follow a formal appeal process. In this guide, we'll show you how to appeal and potentially unban your WhatsApp Business API account.
Learn how to appeal the decision and perhaps have your WhatsApp Business API account unblocked. Businesses can engage with their clients on a valued platform with the help of WhatsApp Business API. Learn how to understand the reason for the ban, contact WhatsApp support, challenge the ban, and make sure you are following all of WhatsApp's rules.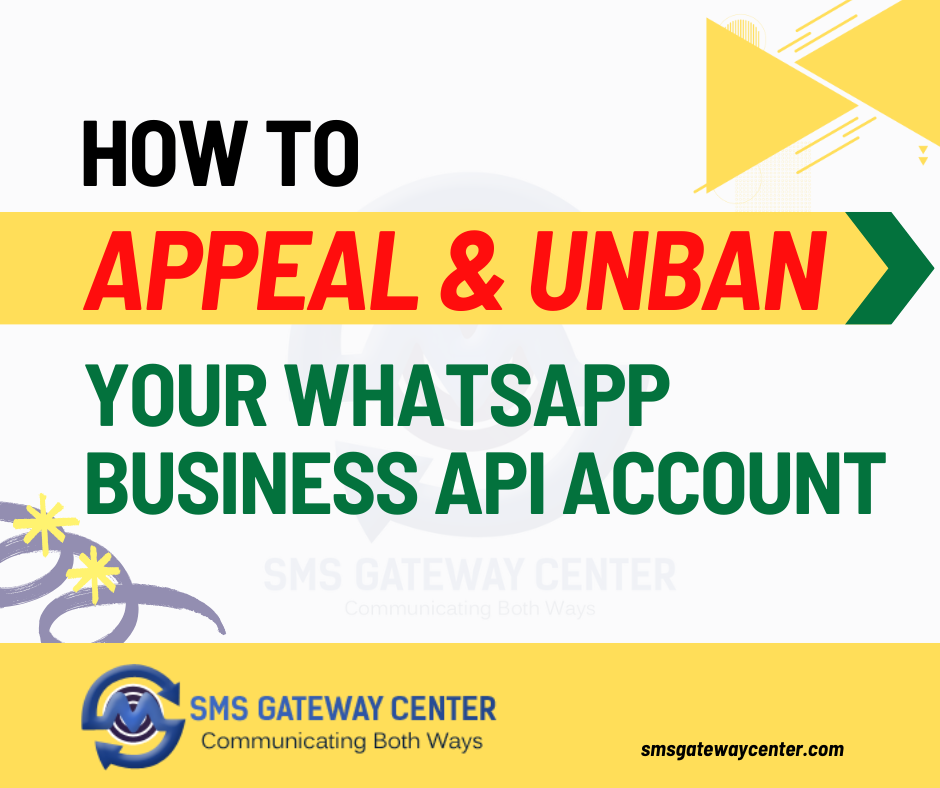 Understand the Ban Reason:
The first step is to understand why your WhatsApp Business account was banned. WhatsApp typically bans accounts for violating their Terms of Service, which may include sending spam, engaging in unauthorized activities, or other policy violations. You need to know the specific reason to address it. Understanding the WHYs Behind Whatsapp Business API Account Bans
Contact WhatsApp Support:
Visit the WhatsApp Business API support page on the WhatsApp Business website and look for the option to contact support. Provide details about your situation, and request clarification and information regarding the ban on your account. Explain your case as clearly and concisely as possible.
Appeal the Ban:
If you believe your account was banned wrongly or have resolved the issues leading to the ban, you can appeal the decision. In your appeal, maintain a polite and respectful tone. Explain your case, including any relevant information.
Provide Necessary Information:
WhatsApp support may request certain information to verify your identity and conduct a thorough investigation of your case. Be prepared to provide any required documentation or information or data, such as your phone number and any relevant communication logs.
Be Patient:
WhatsApp support will review your appeal, and the process might take some time. While you wait for a response, make sure that you're in compliance with WhatsApp's policies.
Comply with WhatsApp's Policies:
Ensure that you're fully compliant with WhatsApp's policies while awaiting a response. If your ban was due to sending spam, refrain from sending unsolicited messages or using automated bots.
Follow Provided Instructions:
If WhatsApp support responds with instructions or requests further actions from you, ensure you follow them promptly and accurately.
Monitor Your Email and WhatsApp Messages:
WhatsApp's responses and updates about your account status will likely be sent to the email address associated with your WhatsApp Business account. Check your email and your WhatsApp account for updates regularly.
Conclusion
In conclusion, WhatsApp Business API takes its policies seriously, and it's essential to be honest and adhere to the rules. If your account was banned for a legitimate reason and you can't resolve the issue through the support process, consider creating a new WhatsApp Business API account and ensure you strictly follow WhatsApp's policies in the future.
Remember that WhatsApp's policies and procedures may change over time. It's advisable to visit their official website for the latest information on account bans and appeals.
SMS Gateway Center diligently abides by WhatsApp's established rules and guidelines. As a prominent WhatsApp Business API provider, we place a paramount emphasis on ensuring all our current clients strictly adhere to these regulations. Furthermore, we extend our support to assist clients whose accounts may have faced bans, demonstrating our commitment to comprehensive compliance and customer service.
---
Save this interesting page on your favorite Social Media
---