In the dynamic realm of e-commerce, abandoned shopping carts are a common challenge faced by businesses. Customers often browse, add items to their carts, but then exit without completing the purchase. The good news is that this isn't necessarily lost revenue. With an effective abandoned cart recovery strategy, you can revive those sales and boost your bottom line. Let's delve into the world of cart abandonment and how SMSGatewayCenter can help you recover those forgotten purchases.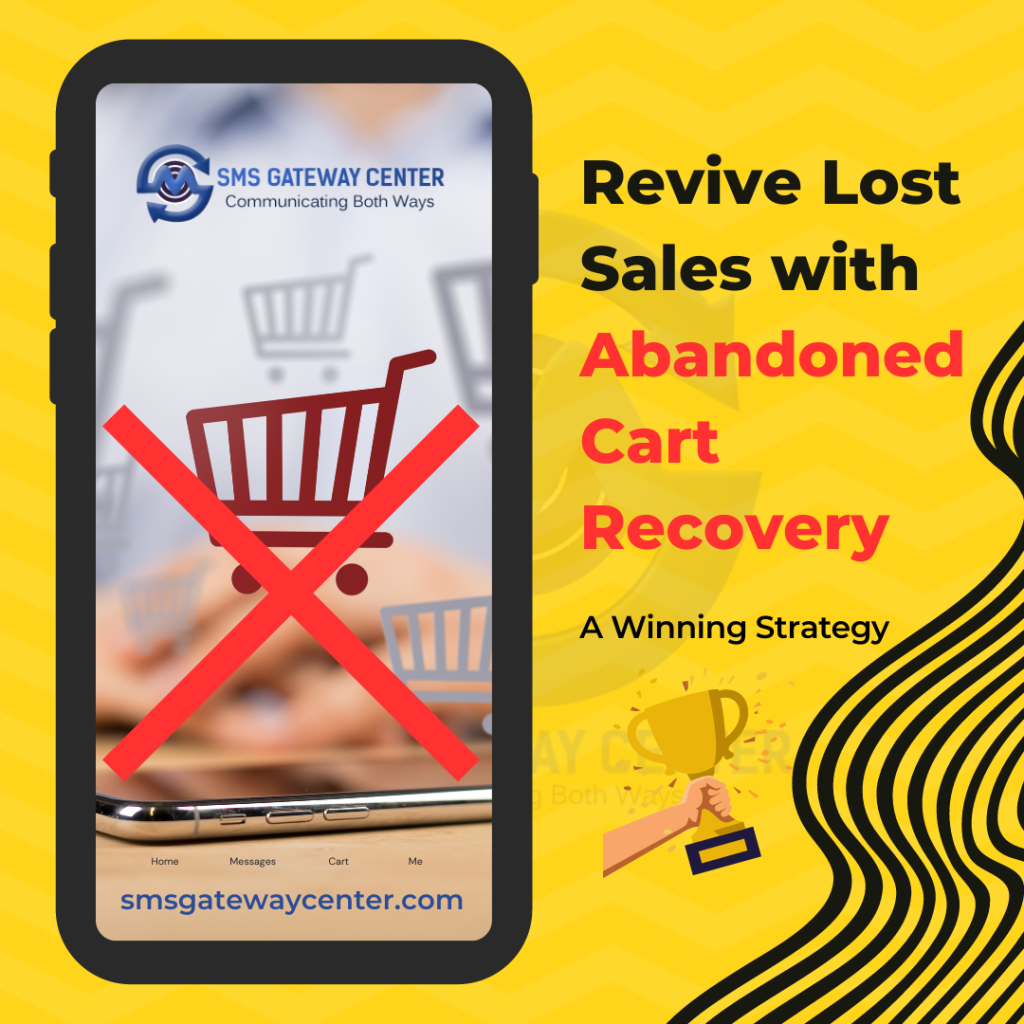 Cracking the Cart Abandonment Mystery
Cart abandonment occurs when a potential customer adds products to their online shopping cart but leaves the website without completing the purchase. While this phenomenon is widespread, it's also a valuable opportunity for businesses to re-engage with their audience.
Why Cart Abandonment Happens
Understanding why customers abandon their carts is crucial. Common reasons include unexpected costs, complicated checkout processes, or simple distractions. Some customers use the cart as a wish list or a way to compare prices before making a final decision. Regardless of the reason, abandoned carts represent an opportunity to rekindle interest and close the sale.
The Abandoned Cart Recovery Solution
Abandoned cart recovery is the practice of sending follow-up messages or reminders to customers who left your website with items in their cart. These SMS messages are designed to gently nudge them back to complete their purchase. The magic lies in the timing and content of these reminders.
Evaluating the Effectiveness of Abandoned Cart Recovery
Understanding the impact of your abandoned cart recovery strategy is crucial for ongoing improvements. SMSGatewayCenter provides robust analytics tools that allow you to track key metrics, including conversion rates, revenue recovered, and customer engagement. By analyzing this data, you can make informed decisions to fine-tune your strategy for even better results.
The Human Touch in Abandoned Cart Recovery
While automated SMS reminders are highly effective, there's also room for a personal touch. SMSGatewayCenter offers the option to enable live chat within your abandoned cart recovery messages. This allows customers to connect with a real human agent who can address their questions or concerns, providing a more personalized and reassuring shopping experience.
With these additions, your readers will gain a comprehensive understanding of abandoned cart recovery and how SMSGatewayCenter's solutions can enhance their e-commerce businesses.
How SMSGatewayCenter Can Help
SMSGatewayCenter offers a robust platform for abandoned cart recovery that can significantly improve your conversion rates. Here's how:
Timely SMS Reminders: Send SMS reminders shortly after cart abandonment to catch customers while their interest is still fresh.
Personalization: Craft personalized messages that remind customers of the specific items they left in their carts.
Incentives: Offer special discounts or incentives to sweeten the deal and encourage them to complete their purchase.
Simplicity: Ensure a hassle-free and straightforward checkout process to reduce the likelihood of abandonment.
Analytics: Gain insights into the effectiveness of your recovery strategy and make data-driven improvements.
Conclusion
Cart abandonment is a challenge, but it's also an opportunity to recover sales and enhance your e-commerce performance. With the right strategy and the support of SMSGatewayCenter, you can turn those abandoned carts into successful conversions.
Ready to win back lost sales and boost your revenue? Partner with SMSGatewayCenter for your abandoned cart recovery strategy and see the difference it can make for your e-commerce business.
Learn more about e-commerce strategies and SMS marketing at SMSGatewayCenter Blog.
---
Save this interesting page on your favorite Social Media
---